Aidan Oehrle, a junior, and senior Will Livingston, finished as bookends among a Foxes' group of players who are moving ahead to the WPIAL Class 3AAA individual golf playoffs. Aidan shot a 74 at the qualifier, held September 17 at Meadowink Golf Course, while seniors Scott Bitar and Amani D'Ambrosio were one shot behind at 75 each. Will, with a 78, was the final player to qualify from Section 4.
The Foxes have the largest contingency of golfers advancing to the playoffs, followed by Franklin Regional and Central Catholic, with three each.
But advancing to the WPIAL individual playoffs has a different meaning for each golfer. For Aidan and Will, it is symbolic of a continuing and successful climb that began two years ago when both boys were injured in a bad car accident.
When Aidan was a freshman and Will was a sophomore, the players were among a group of four Foxes' golfers who were on their way to practice and ended up in a life-changing car collision. Not only did the group miss the WPIAL team championships the next day, but they also faced recoveries, some more serious than the others.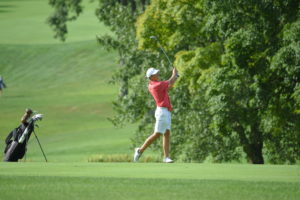 Will and Aidan have found their way back to good health, good spirits, and great golf, and have been big contributors to the team this season. But how they got to this point is a story of character, persistence, and willpower.
Aidan, a 2018 PIAA West Region individual qualifier and WPIAL individual medalist, is very open to talking about his difficult recovery. He spent 11 days in the hospital after suffering from six broken ribs and internal injuries. The memories of the accident also caused a lot of Post-Traumatic Stress Disorder (PTSD), a condition that he says he overcame through many, many hours of counseling. Since then, Aidan has used what he learned during his long recovery to help others who are struggling through tough times.
"It made me mentally tougher and stronger," Aidan says.
Since then, Aidan has gone on to become one of the Foxes' top players, and at the qualifier on September 17, on that day, he was the best player on the team.
"It feels great being able to finish in front for my team and close to the top for the entire event," says Aidan, who has spent much time trying to eliminate "dumb mistakes," and reading about the mental part of the game. Being the top player has definitely boosted his confidence.
"My game is where I want it to be, and it's just a matter of being there mentally," he adds. "Today, I focused on limiting my mistakes\ but did not strike the ball how I wanted. It was all about advancing and shooting the target number, and I'm satisfied with my efforts in moving on to the next round."
Will couldn't have been happier with his results and the way he has been playing lately. His steady rise on the team has come after he suffered a concussion in the accident, something of which he has no recollection.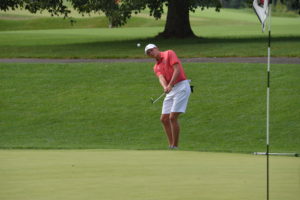 "When I found out I qualified, I was filled with joy," says Will, who made the cut for the first time in his golf career. "It has been such a long journey getting to get where I am today. Golf has meant more and more to me over the past few years, and since the accident, I think I've gotten a lot more mentally tough with my game this year, and especially at the qualifier."
However, while the individual accolades mean a lot to Aidan and Will, it is the close camaraderie that has developed among the team's members that means the most to them.
"I am so grateful that I am still able to play golf and be part of such a special team," Will says. "They were the ones who carried me through the dark days after the accident. The amount of love I have for this team is infinite."