Seniors Sam Dockey and Sophie Williams, junior Britta Lagerquist, and sophomore Carlie Barnett are proving to be a powerful defensive backline this year for the girls' soccer team. The four players are fiercely determined to correct the pitfalls from last year that resulted in them not advancing to the WPIAL Class 4A playoffs.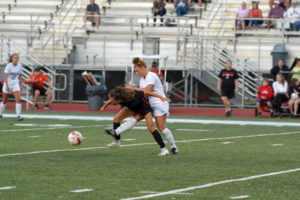 "We all are aware that we have to work harder to beat the difficult teams in our section," says Sam, who, over the course of her soccer career has played holding center midfielder, outside back, and even goalie when she was younger. "I think our defense is solid and shows a lot of promise. We have adjusted to this section (with teams such as Pine-Richland, Seneca Valley, and North Allegheny high schools) and, as a team, our attitude is set on making the playoffs."
As expected, the team already has had its grit challenged when playing the section's top two contenders. So far, however, Coach Peter Torres is pleased with what he's seeing in 2019. He says, "We expected the defense to be tested in this section as evidenced by some close games against some of the best teams in the WPIAL. But our defensive line kept us in the game and allowed us to have a chance to win. I've been pleased with how they are staying organized as a unit."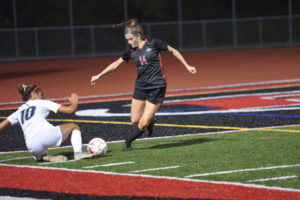 "Our defense is different from past years because of our versatility," adds Sam. "We all have different skills. We complement each other and this has created a nice balance. Our outside backs, Britta and Sophie, are both fast and have great endurance, which has really been beneficial. Carlie and I are center backs, and we work well together. We both go for hard tackles and cover each other often."
It took a while to get to this point though.
Last season, when Carlie was a freshman and Sam was a junior, they struggled a bit. They were not used to working with each other but continued to develop together. Now, they are the most experienced defensive players on the team and the leaders of the unit. Sophie and Britta played different positions last year but have adapted well to their new roles.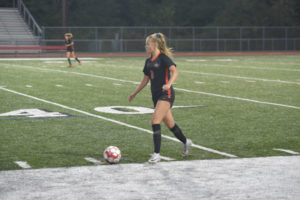 "We are far more successful as a group this year and I think that has to do with our players' awareness," says Carlie, whom Coach Torres describes as  a natural defender and as tactically sound as any defender he's coached. "Our outside backs (Britta and Sophie), have improved so much and are really good at judging where the ball is going to go and going in for tackles. We also are always communicating and hyping each other up."
All of the pieces seem to be in place in the backfield – experience, leadership, high soccer IQ, speed, and tactical strength on the ground and in the air. Now, it seems the only things the Foxes need to earn a trip back to the WPIAL playoffs are more hard work and a mental toughness that can mean the difference between a win and a loss.