The Foxes' cheerleaders have some big goals this year, so they've been putting in a lot of hard work and believe their determination will take them to new heights. While their efforts always begin with creating more school spirit at football and basketball games, cheerleading across the nation has evolved into a sport that involves much more than just what is done on the sidelines.
"Over the past five years, we've added competitions to our program," explains Coach Aleta Balcer. "Last year, for the first time, we competed in the WPIAL Spirit Competition, and we also have entered the Battle in the 'Burgh several times."
Besides the WPIAL contest, the team already has been invited to participate in five others this year.
It was the WPIAL tournament in January 2019, however, that was the most eye-opening. Even though they performed to the best of their abilities that day, the coaches and cheerleaders knew they had to step-up their routines and stunts with more challenging performances. But after losing 30 percent of the team to graduation, the group really had to start over to prepare for the coming year.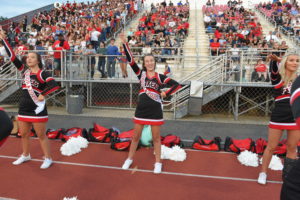 By the end of August, the athletes were practicing more high-level stunts and a dance routine during their summer practices. They worked out eight hours a day, five days a week, and now that school is in session, they practice twice a week for nearly three hours each day.
"Right now, we know about 80 football cheers, short and long, to choose from at each game," says senior captain and dance leader Alayne Gaghan. She also serves as a back spot during stunting. "Next season, once we switch to basketball games, we'll have an almost entirely new list of cheers catered to that sport."
Like Alayne, most of her teammates have spent a number of years honing their skills in dance, gymnastics, and/or cheering. Despite their busy schedules, many of them have continued their lessons, and some even have added other classes so they can add more contributions to the team.
Abundant Talent
When it comes to crowd-pleasing "showy" gymnastics, the team primarily showcases the individual talents of senior Jenna Tupponce and freshmen Zoe Murphy and Bella Stipetich. The three girls also serve as bases when performing stunts.
Junior Kenzi Kavalir, who began cheering with the Guyasuta recreational league when she was a first-grader, now uses her nine years of experience as a gymnast to perform some of her most difficult stunts as a flyer, such as the Liberty Extension. (A Liberty Extension is a stunt where a base holds up a flyer with one of her feet in both of the base's hands. The flyer's other leg is bent.) Other advanced lifts the girls have been practicing for games and competitions are teddy bears, paper dolls, elevators, extensions, basket tosses, and group pyramids. When the squad competes at the WPIAL tournament in January 2020, they can earn the most points in the stunting category
In fact, Coach Balcer says, stunts were the first thing they began to work on as soon as the 2019-2020 team was selected.
"Stunting is harder and more advanced than in previous years with all of the inversions and dismounts," says the coach. "We are mandated by the National Association of High Schools (NAHS), and those rules have become more complex, but they are in place to help keep students safe."
With safety being their first priority, this year all cheerleaders participated in the high school's strength and conditioning program. Coach Balcer says it has helped tremendously. "The girls have use of the program two to three times a week and have been able to not only build up the strength needed to perform the stunts, but also the stamina to perform at the level we are trying to achieve. And, so far, no one has any cheer-related injuries yet this season."
"Our stunts have continued to improve greatly over the years, but we need to continue to get better in order to be as competitive as we'd like to be at the WPIAL level," says Alayne. "In past years, at our week-long cheer camp over the summer, we had college-aged cheerleaders teach us new stunts and routines. But this year, we worked for a week with a well-known cheer choreographer to take our routines to the next level. We're still working on all of the challenges he presented us with, but once we master them, they will definitely help us to be even more competitive this year."
Learning the team's extensiv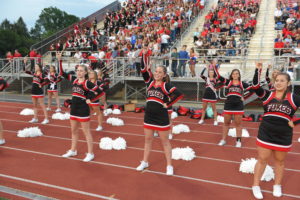 e repertoire is always an adjustment for the squad's newcomers. Freshman Kathryn Billings, who was a middle school cheerleader, found the adjustment to be challenging and intense. Kathryn brings to the team a strong background in dance, something she first started when she was three-years-old. She began to dance competitively when she was nine. Now, she has added gymnastics classes on her own time to improve her tumbling.
"Through competitive dance, I'm used to preparing for competitions and learning routines involving many dance genres," says Kathryn, whose smile might be her most endearing asset. "A lot of my training also focused on stage presence."
But moving up to the high school level, Kathryn found the change was more than learning many routines, stunts, and cheers in a short amount of time; it was, literally, a personal transition too.
"Our first game against Peters Township was a little weird for me because I would usually be up in the stands watching my brother, Ryan, who plays varsity football," she says. "But now, cheering at our games in my favorite part of the week!"
So far, coaches Balcer and assistant Shelley Zottola are happy with the progress that's been made.
"They are hardworking, focused, and willing to try new things," says Coach Balcer. "They get so excited when we come in and say, 'We're learning a new stunt today.' It's great to have that amount of enthusiasm."
In addition to the above-mentioned girls, additional team members and their primary stunting positions include seniors Alyssa Amsden (flyer), co-captains Madison Jerome (flyer) and Emily Noonan (base), and Madeline Viale (back spot). Juniors are Alexis Austin (base), Claire Gallagher (base), Cora Herceg (base), Elena Perez (back spot), and Cara Waxter (base). Elle Coleman (flyer), Chloe Rongier (back spot), Nicole Trasatti (base), and Lucy Valkanas (flyer) represent the sophomore class. Freshmen are Anna Li (back spot), and Emma Wienand (flyer).