Every time the boys' soccer team wins a game, they play their theme song for the year, "Magic in the Air" by Magic System, featuring Chawki. And that's exactly the way they feel as they roll through the season, beating many of the WPIAL's most talented teams, including North Allegheny and Pine-Richland. From the front of the field to the back, they are a solid, united, and physical team that, as of September, has outscored opponents 38-6.
David Shin, a senior captain and center backfielder, says one difference this season is that no one is trying to set themselves above the others, and the high-intensity play of the group. "We want to win a championship and it's all about that," says this season's leading scorer. "One thing we're making sure of is that if we've already beat someone, we don't take them too lightly the second time we play them."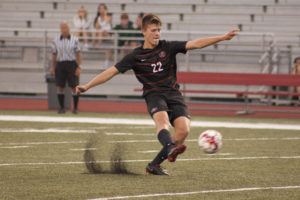 Coach Erik Ingram is very optimistic about what can be accomplished this year, and says, "We are very experienced and are able to play at a high level. Senior captain Josh Miller (center back), and David, and junior Clayton Humbert (keeper) allow us to have quick counter attacks and to stay in games without worrying about giving up goals. Eli Yofan (sophomore forward) and Charlie (senior captain and forward/center midfielder) continue to intimidate defenders at the front end of the field."
Coach Ingram has been the leader of the Foxes' boys' team for 14 years and has an even lengthier history of coaching before that. He claims, "Clayton is the best goalkeeper in WPIAL Class 4A this year and the best I have had since I've been here. He and the defense are well-anchored and give us a great chance for success this year."
His praise for his center backs is equally as glowing. He cites David, a four-year varsity player, as being great one-on-one, and the player he depends upon to organize the defense's tactics. Josh, a natural athlete with incredible strength and power, adds quickness to the backfield and is great in the air. Coach Ingram says of Josh, "He is also quick to get forward in transitions and makes it difficult for teams to createopportunities for themselves."
At the front end of the field, are Eli and Charlie, who have proven to be formidable attacking players.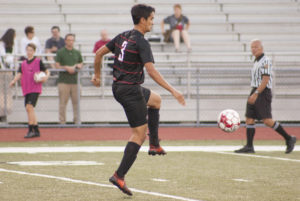 "Eli has amazing athleticism and is very good at beating defenders on the outside," says Coach Ingram of his athlete who has been a great scorer and leads the team in assists. "He uses his size (well over 6'), strength, and speed to get behind defenders and in the air."
If creativity is the key to scoring, then Charlie has that mastered. He is quick to capitalize on loose balls and one-on-one
opportunities and has a knack for being in the right place at the right time. The fact that he splits his time between defensive center midfielder and forward makes his team-leading seven goals even more impressive.
One thing Charlie likes about this team is how they recover if they are down and cites the aftermath of their loss to Seneca Valley as an example.
"We stayed positive and then came out and won our next two games," he says. "But just as important is hard work and team unity," he says. "This is the closest team I've been part of in the last four years. Without it, I don't think we would be where we are today."