Coach Vernon Yenick wasn't quite sure what to expect from his diving teams this season. After all, his entire boys team had graduated, including state and WPIAL champion David Manelis. He knew that three of his female divers were returning, but they also excel in other sports, so the amount of time they can practice diving is limited. The coach was all prepared to start the process of rebuilding and recruiting for the program, but, instead, got a huge surprise when 14 divers showed up for the first practice and 10 of them were freshmen. It is not only the largest group he's instructed in his 15 years with the Foxes but also chock-full of talent.
Of the diving group, the entire boys team is made up of freshmen – Caleb Adams, Jackson Hagler, Josh Gunzenhauser, and Charlie Larsen. The girls team includes seniors Hanna Essey and Mira Tramontina; junior Eleanor Fox; sophomore Emma Kim; and freshmen Ainsley Anderson, Ellie Dering, Noelle Dick, Maddie Grimsley, Devon McDonald, and Ella Stackhouse.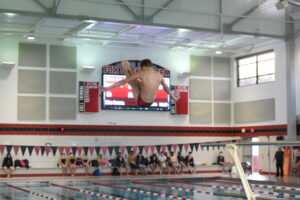 "I am especially impressed with the upperclasswomen Mira, Hannah, and Eleanor for their outstanding leadership skills," coach Yenick says. "They are the glue that holds together the team and an extremely important group since they are helping the newbies learn what practicing and competing are all about. They have the skills the freshmen are striving for and help me immensely."
Girls' captain Mira, formerly a gymnast and now a standout in field hockey and lacrosse, says, "There are lots of freshmen and I think their first high school season will go very well. Many of them have done off-season work with Coach Vern, and if they haven't, there is a high chance that they are also involved with gymnastics, which also helps. They are all very confident with diving in general."
Jackson was the first diver to automatically qualify for the WPIAL Class 3A championships and Ainsley met the qualifying time two meets later.
On the girls team, coach Yenick expects Ainsley to go all the way to the podium, if not this year, then definitely next year and for the rest of her high school career. She is already a top diver in Western Pennsylvania with very little formal training.
"Eleanor is strong and able to somersault so quickly that we often bring her back to a skill that helps her control her takeoff from the board," says her coach. "Devon also has come on so strong and in just the last week has learned several new dives and competed in her first meet. Her performance was outstanding. She is a very focused athlete and I expect huge wins from her in upcoming seasons."
The coach continues, "Maddie, Ella, and Emma have so much raw talent. Even though they are beginners and not quite ready for competition, I see them as having an incredible year of learning and coming back next year confident and competition ready."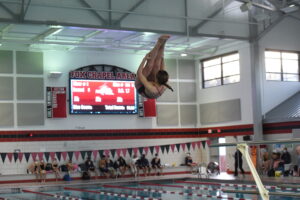 For the boys, coach Yenick calls Jackson an enormous talent who became a WPIAL qualifier at his first high school meet. His coach describes him as having no fear, a hunger for being at the top of the leaderboard, a willingness to try anything, and being eager to learn.
Josh, who has a long history in tumbling and gymnastics, is also an excellent talent and is doing really well, as is Caleb.
"I expect both of them to qualify for WPIALs within the next few weeks," their coach says. "Charlie's raw talent just needs to be refined and then he will be ready to contend in 2022.
"I just see so much amazing talent this year and am elated with the depth we have," says coach Yenick. "We are going to have the strongest all-around team in the history of Fox Chapel Area diving. I can see at least five or six WPIAL qualifiers by the end of the season, and a lot of these kids are only 14-years-old. Every diver is so motivated and willing to learn."
He's also found that using meditation and visualization techniques this season have been very beneficial in helping the athletes picture every dive as perfect as possible.
"I come to practices excited to work with this group," adds coach Yenick. "I am so thankful to be able to work with these kids, who are not only extreme talents but are friends, spend time outside of the pool together, and root for the best in each other. Their attitudes are what I am most impressed with. Everyone on the team makes an effort that is above and beyond what I could have asked for, and they come from a place of confidence."