Freshman Jackson Hagler only started occasional diving lessons about two years ago, but at his very first competitive high school meet, he surprised even himself with a score that automatically qualified him for the WPIAL Class 3A championships in March. He upped his original score of 203.25 to 207.30 quickly thereafter and proved that as the season progresses, he is going to continue to impress.
"It was surreal (qualifying that early), and I'm really humbled to have made it at that meet," says the rookie of his performance against Shady Side Academy. "I was super excited and nervous going into it, but when I realized that I qualified, it was a huge weight lifted off my shoulders."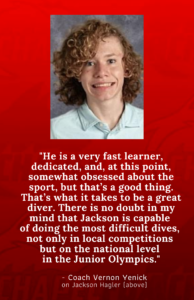 It was actually two former elite Foxes divers who worked with Jackson early on to help him get a head start to his high school career ­– all-Americans David Manelis and Jonah Cagley. David is the reigning PIAA Class 3A diving champion, a two-time WPIAL gold medalist, and the first diver in Fox Chapel Area history to win the state crown. He now dives for the United States Military Academy (Army) at West Point. Jonah, a junior at Duke University, also is a two-time WPIAL champion and PIAA medalist. Jonah was the first Foxes diver to win a WPIAL gold medal.
In other words, Jackson has had the good fortune of learning from the best of the best.
"I knew Jonah and looked up to him because he was one of the first male divers that I saw," says Jackson, the 2021-2022 captain of the all-freshman boys diving team. "He has done some amazing things (in his diving career), and I look up to him as a person and as a diver. Jonah taught me the importance of finishing a dive, while David taught me to dive with no fear."
Perhaps his biggest admirer outside of his family is coach Vernon Yenick. He explains Jackson's potential, saying, "Jackson is building upon natural talent to perfect his technical skills. He already knows how to spin and twist fast while somersaulting, which is challenging to teach. His best dive right now is an inward one-and-a-half somersault in the tuck position, but he will be changing that to an inward two-and-a-half-somersault tuck position for the WPIAL championships.
"He is still refining his board work, and I believe he will be at David's level, if not beyond his level, within the next year or two. He is a very fast learner, dedicated, and, at this point, somewhat obsessed about the sport, but that's a good thing. That's what it takes to be a great diver. There is no doubt in my mind that Jackson is capable of doing the most difficult dives, not only in local competitions but on the national level in the Junior Olympics."
That kind of encouragement makes Jackson even more enthusiastic than he already is about practices and working hard.
"Right now, I need to focus on my form," Jackson says. "I still have a lot to improve with my diving. I am looking forward to continuing to practice and getting better. I feel very fortunate to have a great coach in Vernon. He understands that every person learns in a different way and he has been a big help. I am excited to try anything on the board and am grateful to be surrounded by such a great group of divers."
Jackson already is thinking beyond the season to the summer when he plans to train with some of the top instructors at RipFest, considered to be the best dive camp in the country.
"This camp is intensive and is well known for improving the dives of young athletes quickly, sometimes within a week," explains coach Yenick. "Once Jackson cleans up his form, there will be no stopping him from accomplishing his goals."