Riding on the strength of the Foxes doubles' teams, the girls tennis team became the new WPIAL Class 3A Section 3 champions on October 4, after defeating Shady Side Academy, 3-2. The victory automatically advances the squad to the Class 3A WPIAL championships that will begin October 11.
Under Coach Alex Slezak's leadership, the program has advanced to the team playoffs each of his eight years and won the team section title five times.
This season, the team concluded the regular season with a perfect 8-0 section record.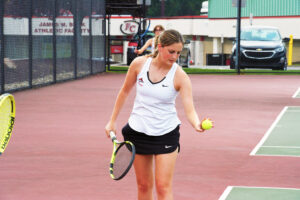 During the Section 3 playoffs, the Lady Foxes faced tough competition from neighboring Shady Side; however, the Foxes' two doubles teams stepped it up to secure the win. Seniors Anna Ferris and Bridget Kilmer defeated Shady Side's Maya Leyzarovich and Lizzie Uhlman 6-2, 6-3, while fellow Lady Foxes, junior Diya Reddy and sophomore Sophie Carvelli, outplayed Sarah Voigt and Vanessa Han to finish victorious in two sets, 6-4, 7-5.
"I'm proud of our doubles teams because they really clinched the section for us," says Coach Slezak. "They did great, competed their very best, and worked hard. They were aggressive, played well at the net, and are real competitors. In singles, senior Carissa (Shepard) showed why she is the section singles champ this year by how well she played again against Elana Sobel, Shady Sides' top singles player. She won, 6-2, 6-3, in two sets."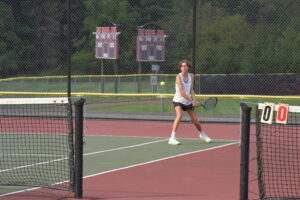 While there are always high expectations placed on the team each season, they aren't coming from Coach Slezak – he doesn't like to talk about his own beliefs to the girls, parents, or the media. He lets the players set their own standards and goals, but he does want them to play to their full potential.
"I've found that expectations can cause too much pressure," he says, "so I like to keep things low-key, while still encouraging each girl to play every match with 100% effort."
It won't be long before the ladies know whether the team will advance to the PIAA tournament. The top four teams in WPIAL Class 3A will advance to the state championship in Hershey that will be held October 29 and 30. The last time the Foxes won the WPIAL title was in 2004. They were state champions in 2004 and again in 2019.