The Foxes have several key "disrupters" on the football field this season, and one of the very best is wide receiver/safety Khi'lee Patterson. The senior brings a certain "X-factor" and confidence to the field with his explosive bursts of speed, tackling that belies his size, and a tough mentality that plays out in his refusal to back down to anyone. It's a demeanor that always provides a spark in the game and excites fans.  
Khi'lee's stats to date from the three years he has played on the varsity team are impressive – he has been one of the players at the top of the offensive and defensive leaderboards since he was a sophomore.    
Khi'lee doesn't really care where the coaches put him on the field, as0 long as he's out there. He says, "I like whatever side needs me more. If we need points on the board, I'm an offensive guy, and if it's crunch time and we need a stop, I'm a defensive guy. I do whatever the team needs to win."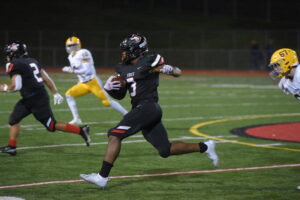 Offensive coach David Horvat says his player has a unique blend of great athleticism, speed, and versatility – the kind of talent that gives opponents trouble, no matter if he's playing offense or defense. 
"He's just plain quick," says Coach Horvat. "If you blink, he's already past you. He's also very adaptable. There aren't that many players with his kind of versatility, and he's one of the better ones that I've seen in a while." 
"I like to think that something that separates me from other players is my toughness," says Khi'lee, whose main influence to play the game comes from his uncle. "I really don't fear anyone, and that helps me to play at 100% all the time."
"He changes a game," adds Coach Horvat of Khi'lee, who has clocked his 40-yard dash at 4.55 and is confident it will come down further with continued training. "He's also a natural and passionate leader. I hope those qualities on the football field will transcend into lifelong assets for him."
Khi'lee's knack for energizing the team was on full display at the September 17 game versus Franklin-Regional. On the first play of the first series of the game, he pulled down a soaring 70-yard pass from quarterback Colin Dietz and sprinted into the end zone for a touchdown. That play set the tone for the evening as the Foxes went on to upset the Panthers, 13-9. 
Eager 'Gamer'
Defensive position coach John Moritz calls Khi'lee a "gamer" who has a special knack for the ball and where the play is going. He also gives Foxes' coaches the ability to move him to unexpected spots and make opponents adapt quickly.
"Khi'lee demonstrates big-play ability and really makes an impact on defense," Coach Moritz says. One of his strengths as a defender is that he understands the structure of the defense. He also has an excellent understanding of how football plays develop and how he can make a positive impact. He fills the alleys and makes open-field tackles, and his competitiveness makes him want to be the first player to make the tackle, every play."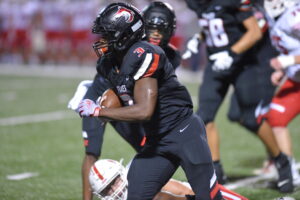 The coach tells of a tackling circuit the coaches use during practices in which the players perform various types of tackles. Moritz's is called the gator tackling station.
"Just like Advanced Placement courses in school, I reserve the title AP Gator Tackling Award for players who demonstrate the best tackling," he explains. "This season Khi'lee and Ziggy (Thomas) are the only two who have been given that title so far. Ziggy also is having an excellent year and, like Khi, provides multiple tackles every game and both have excellent field vision." 
Positive Outlook
Football is Khi'lee's sole athletic focus. His style of play and aggressiveness have led to some injuries along the way, but he has overcome them with a dedication to weight training and putting on pounds. But his time on the sidelines was never wasted and often revealed his leadership abilities. There have been many times Khi'lee has played scout team to give his teammates the best game situation possible. 
"He also has been very vocal with the younger players on how to play," observes Coach Moritz. "He knows that leadership is more than breaking the huddle and staying in the front stretch lines."
With half of the regular season still left on the schedule after the homecoming game against Shaler, Khi'lee is determined to make the most out of his final year of high school football. He also wants to leave behind positive words and actions for the players who will take his place in the lineup in future seasons. 
"I like to lead by example and by facilitating open communication," says Khi'lee. "I just try to bring out the best in every player."