There is just something special about a marching band and the excitement and pep it radiates at football games and parades. Now, after a year of eerily silent stadiums, melodic sounds are once again coming from the Foxes' own ensemble, and it is stronger than ever. With 25 new members, new musical selections, and fresh choreography, the sorely missed energizing and in-sync performances have returned – and fans are thrilled to have the marching band back on the field and playing upbeat music in the stands.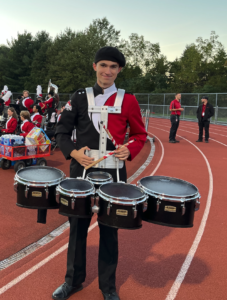 Senior percussion musician Patrick Alexander joined the group as a freshman. He also plays in the school's symphonic band and has his own group, Asicosa. "It felt good (to get back out there)," he says. "We all missed playing for a crowd so much and were grateful to get to do it again. It was a very good reminder to not take any given performance for granted."
Some people have no idea that in addition to the lively atmosphere it creates at halftimes, the Foxes marching band is also an award-wining group that holds the title of the 2019 Class 2A Pennsylvania Interscholastic Marching Band Association (PIMBA) champions. (There was not a competitive season in 2020 due to the pandemic.) Competing in various competitions is a way to show off its musical and visual strengths with other local marching bands. Most recently, the Foxes placed first in their division at a regional competition at Baldwin High School and also received awards for their Music and General Effect. The marching band will compete in several more competitions before it concludes its season at the October 23 PIMBA championships.
"The students really enjoy getting feedback from the judges to help improve their next performance," says band director Daryl Lesnik.
Practice Makes Perfect
Even though the band is relatively small with 60 members, it's still quite a complicated process to get everyone in sync, not only musically, but also the moving parts of each performance. Like any of the Foxes athletic teams, it takes months and months, and hours upon hours, to prepare each year. That process begins almost immediately after the previous school year ends with four Tuesday evening rehearsals during June and July. Much of the initial practicing for the six- to seven-minute shows is devoted to marching fundamentals because some members have never marched in formation while holding their instruments, or for the color guard, flags. To add in a fun twist, the marching band practices using popular current songs. Additionally, an annual band camp is held in August.
According to Mr. Lesnik, the students love band camp. That's when the multilayered performances really start to come alive. There are more than 90 formations in this year's show alone.
Senior drum major Lance Wilhelm, who plays the trumpet in the high school's symphonic and jazz bands, has important responsibilities to ensure everything is running smoothly, such as leading practices. He is easily recognizable on the field conducting performances, as he is the one who stands high above the group on the "ladder." Lance works closely with junior Joseph Thomas, who will take over once Lance graduates in June 2022.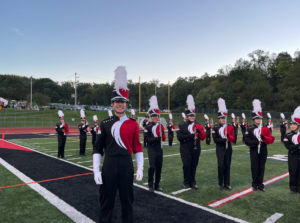 Lance says the band's comradery is special.
"We spend so much time together, so we get to know each other really well. It's fun to put a show together with a tight-knit group of people and to see the progression of our performances from the beginning of the season to the end."
The selections for those shows begin way before anyone takes the first step into the limelight. Right after the conclusion of the school year, the band staff begins to review different music and concept selections for the next season. There is a lot to take into consideration.
"We start working on parade and show music during summer rehearsals in June and July," explains band director Daryl Lesnik, who works together with Evan Hertrick, the elementary band director at O'Hara and Hartwood. "We work on everything together before students start to practice their music independently.
"Every show has a theme that can be tied together visually and musically. This year's theme is 'Dream.' We have song selections that make that word come alive, such as 'Sweet Dreams Are Made of This' by the Eurythmics; 'A Dream is A Wish Your Heart Makes,' from Disney's 'Cinderella'; and 'A Million Dreams' from the Broadway show 'The Greatest Showman.'"
Personality and Pomp
For drummer Patrick, playing percussion is freeing because it allows him to add some personality to his performances. He says, "My favorite part about playing percussion is how easily it lends itself to improvisation and fun parts in pieces."
In fact, some of the pit percussion musicians have a distinctive position on the field. Most other marching bands place their pit percussion at the front of the field, but the Foxes do something different. Mr. Lesnik describes why his formation works better for the Foxes. "Our music is normally more grove-based, and this placement allows our wind players to listen back and for us to utilize the drum set, guitar, and keyboard, in addition to the traditional percussion instruments," he says. (The pit percussion group is the front ensemble in a band that does not march because the instruments used are too large.)
The color guard adds even more pomp. Senior Laura Klamut joined the corps as a freshman after dancing tap, jazz, and ballet recreationally for years. She says, "The color guard has a lot of roles, but mostly we make up a large visual portion of the show and establish the general effect and overall mood of the show. Most of the work we do is with flags, but we also do quite a bit of dancing. As captain, I choreographed our parade routine for this year – Disco Inferno – which we performed at Kennywood in its Fall Fantasy Parade."
More Than Music
But one of the true joys of any kind of music are the memories and feelings that can instantly take you back to a certain place in time.
"Band and music bring people together for a variety of reasons," says Mr. Lesnik. "Over the course of the band season, there are many great memories that are made on and off the field. Plus, we have a strong network of parent volunteers who spend a lot of time assisting with fundraising, chaperoning, moving equipment, and making sure that everything is ready on and off the field."
Right now, there are a few more football games and competitions on the horizon, and the seniors are looking forward to their final appearances as band members. Lance says his years with the band have been very gratifying and like no other. "I really like what the band has done in the four years that I've been a part of it. I would love to see it grow in the future because I think a lot of people would enjoy the experience of being in the band and could benefit from it. It's a really unique activity that can be very rewarding."
Patrick has his own enthusiastic idea for a forthcoming concept. He says, "I'd love to see the band try a halftime show themed around Prince!"