From the time they were young soccer players and then standouts on the Foxes girls soccer team, Fox Chapel Area alumnae Taylor Cohen and Dixon Veltri had big dreams of playing professional ball. The chances of that happening are infinitesimal, but the athletes beat the odds and made it to that elite level of play – and even a step above because they signed with international teams. Taylor and Dixon are believed to be the only Fox Chapel Area High School soccer players in school history, male or female, to reach that extraordinary level of success.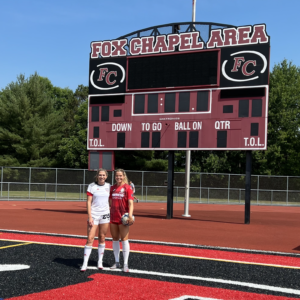 Dixon (Class of 2017) now lives in Israel and just signed a contract extension with Maccabi Emek Hefer women's football club of the Israeli women's Premier League. Taylor (Class of 2016) signed with FC Saarbrücken in Germany after her senior year of college and played before COVID-19 shut down much of the sports world. She returned home, had knee surgery, and thought her soccer career was over. But, as fate would have it, in August 2021, she got a call from the coach of the USA women's open soccer Maccabi team and was invited to join the 18-member squad to compete in the international 21st Maccabi games in Israel from July 12-26, 2022. She had been asked to join the team several years ago, but COVID shut it down, too.
"When I was little, I always dreamt of playing pro," says Taylor. "My dream came to life in college when I was presented with opportunities to make that happen. Discussions with my college coach, working with my awesome trainer, and going to a January camp in my senior year helped get me connected. Signing with an agent and putting in the extra work made it happen.
"The Maccabi games are something I always knew about as an athlete. When the coach called me in August 2021 and said the games were back on again, he asked if I wanted to join the team. I was ecstatic and grateful to be given all of these opportunities with the game I love."
Dixon echoes Taylor's thoughts. "I had always dreamed of playing professional soccer ever since I fell in love with the game at a young age," she says. "I would play any opportunity that presented itself, so if any of my friends asked to play, I would always go or organize pick-up games when we weren't training. In college, my two best friends and I would play with the guys. We just were always looking to play, and the boys at Pitt would play with us. Even during COVID, a group of six of us from Pitt from the men's and women's teams would play every day for hours and hours.
"I realized in college that it was possible (to go pro) and did everything in my power to make it happen. After so much hard work, I was so happy that I was finally making my dreams become reality." Her parlay into becoming a pro came upon the recommendation of local coaches who had strong connections in Europe and Israel.
The Passion & Drive
While 18 years of hard work got them to where they are today, even more so, they agree it's their continued deep passion for the game and intense drive to play that got them to the professional level. They do say, however, that the jump to the pros is different from what they had previously experienced.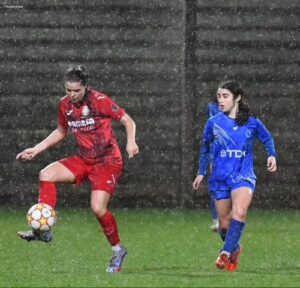 "When you are in high school and college, you are playing with your friends and for your school, so there is a lot of bonding and a strong connection with your teammates, but when you are at the professional level and playing in a different country with people from all over the world, it's very different," Taylor explains. "That's when your passion for the game is more important than ever."
Dixon wants to continue as a pro for as long as she can. She pinpoints why: "When I step onto the field, I try to have fun, and that's what has kept me playing and pushing through it. I just think the beauty of the sport and how amazing it can be when you work together as a team is probably why I picked soccer as my passion over the other sports I played."
The Journey
Taylor and Dixon not only shined on the soccer field in high school and on their top-level offseason club teams; the athletes also impressed college recruiters with their athleticism in other sports. Dixon lettered four times in diving and track and field, and was a three-year letter winner in gymnastics, while Taylor lettered in basketball three times. They were all-WPIAL picks several times in soccer, and Dixon was named all-state in her senior year.
Taylor moved on to play for four years at the University of Washington in St. Louis, where she made the school's record books multiple times. She was a stellar forward and, as a freshman, scored the lone goal that won the team the NCAA Division III national championship that year.  She was a captain in her senior year of a team that won four conference titles and made the NCAA playoffs each year. Individually, Taylor was named an All-American twice, one of only seven in school history, tied in university history for the most game-winning goals, and is third all-time in goals scored and points.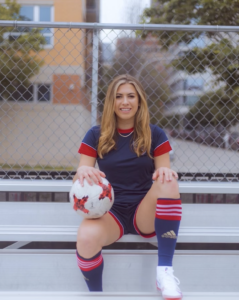 Dixon spent her freshman year at the University of North Carolina Wilmington, where she got a quick kick-off as a starter in all 14 games. She transferred to the University of Pittsburgh after that and played there for the rest of her collegiate career. The center midfielder/defensive midfielder was the captain of the team as a senior and helped lead the team to its most successful season in Pitt women's soccer history. Her leadership also was instrumental in rebuilding the program when renowned coach Randy Waldrum took over.
The Future
The Maccabi games are Taylor's last hurrah before she retires. She says her time in Germany was fantastic, but when COVID-19 put an abrupt halt to her career and shut down many sports teams worldwide, she was not satisfied with how things ended.
"I didn't have closure because having to quit was not my choice, but after the Maccabi games, I can be satisfied when I take off my cleats for good," she says. "I'm raring to go. I'm excited."
Whatever path their future takes, Taylor and Dixon have already achieved the pinnacles of success in sports. But, along the way, the academic leaders made sure to prepare well for their careers after sports. With a degree in marketing, Taylor now works in Chicago for a leading sports agency that represents national brands across the United States, and Dixon recently earned a master's degree in sustainable engineering from Pitt.
Dixon does have advice for anyone who has a dream, no matter what it is.
"Never give up, even if other people don't think you can't achieve it," Dixon says. "You always need to believe in yourself and your abilities."