Saying Carlo Prati is enthusiastic about getting started as the new head coach of the Foxes girls soccer program is more than an understatement. He has been preparing for the opportunity after spending the past 12 years as a coach, and he has played the game for a lifetime. For the past four years, he has been an assistant and junior varsity coach under former head coach and mentor Peter Torres. During that time, he was instrumental in guiding the Foxes to the WPIAL playoffs three times out of his four years with the team. Last year, the squad advanced to the WPIAL Class 4A semifinals.
Now going into his fifth year with the program, the coach has an immediate advantage.
Fox Chapel Area Director of Athletics Mike O'Brien explains, "Coach Prati is the perfect person to lead the program. Besides his vast knowledge of the game, he knows the players, their strengths, and how to communicate with them in a productive, meaningful way. The familiarity certainly will help for a smooth transition."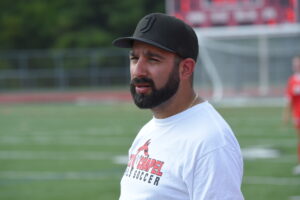 Coach Prati says some of his other skills – keen attention to detail and good organization – are beneficial when heading a program. Prati also believes his profession as a videographer, editor, and photographer actually helps him on the field.
"I think being a creative person like myself allows me to think of ways to get the most out of the players," coach Prati says. "Everyone learns differently, so you need to find a way to do the same drill in different ways."
But, even more than that, coach Prati has an expanded vision for the program.
"I'd love to make it more of a soccer culture in the Fox Chapel Area," he says. "I would like to see the high school team support the middle school program and have each of them join in the other's practices and games. I want to build a good relationship with the younger girls so they have someone to look up to. I also would like to incorporate more young girls coming to our games and serving as ball girls to build that community feel and support for Foxes soccer."
Love of the Game Started Early
Coach Prati's passion for soccer started when he was very young, thanks to his father, who was a semi-professional soccer player in Italy and Germany.
"I grew up playing soccer, and it continues to be a huge part of my life," he says. "I was born in Pittsburgh, but shortly after, my family moved back to Italy. I lived there until I was 5. Growing up in an Italian family, soccer is more than a sport – it's part of our culture. I don't remember a time that I haven't been playing, watching, or coaching soccer. I absolutely love being around the players and helping each one of them grow as an athlete and achieve his or her goals."
Early Preparation for the Season
"We just started our summer workout sessions and have had a great turnout so far," Prati says. "The girls are doing strength and conditioning training (through the high school's program) four days a week, and on two of those days, they scrimmage each other. It's great because we have opened these sessions to any girl soccer player from seventh to 12th grade. This not only helps get the girls ready for preseason, but it also helps them bond with each other."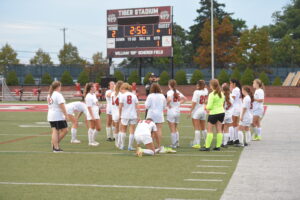 He expects to roster eight out of last year's 11 starters, including senior all-WPIAL player Makayla Mulholland (midfield) and senior Molly McNaughton (goalie). Juniors Anna Troutman (defender) and Kate Friday (midfielder) were named all-section last year and will be back, as will Syndey Schutzman (midfield). There is also a strong contingent of sophomores coming back – defenders Maya DiPasquale and Bella Urso, and midfielders Madeline Grimsley and midfield/forward Alyssa Quackenbush. Madeline and Alyssa were injured last season, but Coach Prati expects big things from them upon their return this year.
Makayla, Kate, and Anna also were named first team Big 56, and Sydney, Molly, and Maya received honorable mentions.
"Of course, I expect these girls to make huge contributions for us this year and lead this team, but the players coming off the bench last year also had a lot of leadership and experience. Now these girls are seniors – Lilygrace Goodworth (forward/midfielder), Mia Fortun (defender), Lindsay Scheffler (forward/midfielder), and Mia Nury (midfielder).
"We were fortunate to have a really strong freshman class last year, and by the end of the season, we had four or five of them starting in the WPIAL playoffs. I expect that class to be big for us again this year, and I think sophomore midfielder Paige Solomon can contribute right away. We are also excited for this freshman class and are hoping they can contribute as much as last year's freshmen did. There are a few who could push for varsity playing time as well."
---
Tryouts for the varsity and junior varsity teams will be held at the Fox Chapel Area High School field from August 15-19.