It was long overdue. The Foxes boys' swimming program captured its first section championship in 30 years after it squarely defeated North Catholic High School in their last meet of the regular season. The celebration was twice as nice because it was the first time on record that both the boys and girls teams won their titles simultaneously. This was the girls' second consecutive title. Both groups had claimed, "this is the year," and to finally be able to relish their success together was very special.
Both teams are undefeated with records of 8-0.
"I'm proud of the kids because they had a tough year (because of practice interruptions due to the pandemic), but they have a great work ethic and really stepped it up," says Coach Dan Taylor. "Both the boys and girls teams will continue to get even stronger and faster in the coming years."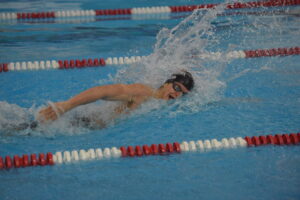 Indeed, they are. The teams have been playing catch up by training seven days a week for a good part of the season, although the seventh practice is optional. Their drylands are ramped up too and they partly mimic those of collegiate teams. Still, nearly everyone attends, which is a demonstration of how much the swimmers had their hearts set on gold this season.
"It felt amazing to win the section, especially with this group of boys," says junior Nate Ross. "I'm really proud of how hard we worked and how it all paid off. This group of guys was different than any other I've swam with in the past. We knew we were good, and we knew we had a chance to win. Every single day we came to practice and gave it all we got."
Girls junior co-captain Rei Sperry adds, "Winning the section, especially two years in a row, is extremely fulfilling for the girls' team. We have all worked so hard at every practice and during our drylands, and knowing it made a difference is powerful."
There have been a number of highlights during the 2020-2021 season so far.
The girls broke two relay pool records: the 200 free relay team (Talia Bugel, Sophie Shao, Rei Sperry, and Vivian Shao), and the 400 free relay comprised of the same girls.
Individually, Sophie Shao set a new pool record in the 200 IM.
In the 100 butterfly, current state champion Sophie Shao is also ranked first going into this year's WPIALs as well as the 200 IM.
Senior David Manelis (last year's WPIAL champion) has topped the leaderboard in boys diving by a large margin all season.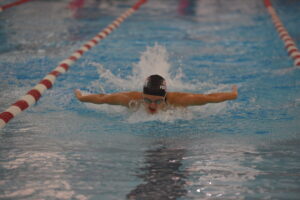 But the story is far from over. Quite a few swimmers made the qualifying time cuts and will represent Fox Chapel Area High School at the WPIAL Cass 3A championships. Diving contests will be held February 27 and the swimming tournament is March 7. It was tougher than ever to get to the tournament than in years past, because the number of qualifiers was changed this season due to COVID-19 social distancing requirements. Only the top 12 relay teams and top 16 individuals in each event qualify to race. Some Foxes swimmers qualified in more events than indicated but had to eliminate some in order to meet WPIAL and PIAA regulations.
Qualifiers, including WPIAL times, place finishes, and points as of 2/21/21
Relays
Girls
200 free relay – Arianna Pasquella, Rei Sperry, Vivian, Shao and Julia Stutzman (3rd place, 1:37.92)
Girls 200 medley relay – Talia Bugel, Sophie Shao, Rei Sperry, and Vivian Shao (3rd, 1:47.18)
Girls 400 free relay – Talia Bugel, Sophie Shao, Rei Sperry, and Vivian Shao (2nd, 3:33.86)
Boys
200 free relay – Zachary Zornan Ferguson, Nate Ross, Nate Anderson, and Emmanuel Drappatz (12th, 1:30.13)
400 free relay – Zachary Zornan Ferguson, Nate Ross, Aadil Pattada, and Holden Smith (6th, 3:16.24)
Individual Qualifiers
Girls
50 freestyle – Talia Bugel (7th, 24.53)
100 butterfly – Sophie Shao (1st place, 56.16)
100 breaststroke – Arianna Pasquella (15th, 1: 08.36)
200 IM – Sophie Shao (1st first place, 2:03.56)
100 backstroke – Talia Bugel (2nd, 56.45) and Rei Sperry (9th, 58.94)
Boys
50 freestyle – Zachary Zornan Ferguson (4th, 21.47)
200 freestyle –Nate Ross (7th, 1:44.76)
500 freestyle – Zachary Zornan Ferguson (3rd, 4:45.96) and Nate Ross (7th, 4:47.61)
100 backstroke – Aadil Pattada (13th, 54.16)
100 breaststroke – Henry Koloc (12th, 1:01.74)
200 IM – Henry Koloc (15th, 2:00.40)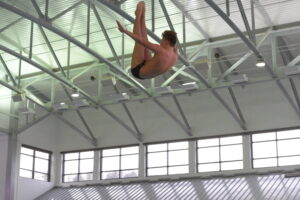 Diving
David Manelis – (1st, 352.20 points)
Aiden Ireland – (8th, 226.55 points)
Tristan Vettier – (21st, 192.55 points)
"As for WPIALs, we're just going to keep doing what we're doing," says Nate. "We'll swim hard and improve on any last things we can."
Coach Taylor commends his swimmers for a job well done – so far.
He says, "Every swimmer on our teams did exactly what we had to do. We got the job done with every race, and because of the teams' efforts, we succeeded. The boys' team has more qualifiers and better seeds going into WPIALs than we've had in quite a while. I'm not at all surprised by the girls' standings, and, together, this is probably the most qualifiers we've had in the last three years. We're looking forward to competing at WPIALs where we will face some of the top teams in the region– Upper St. Clair, Seneca Valley, and North Allegheny. It will be a challenge, but they have overcome many of them this year and have still done a great job."
The WPIAL championships will be broadcast on https://tribhssn.triblive.com/.