Having been vastly underrated when the 2020-2021 season started, the Foxes boys basketball team has fought its way to win the WPIAL Class 6A section title for the second consecutive year. That was an achievement in itself, but the day the players clinched the award, they learned something surprising: It was the first time in 54 years that any Fox Chapel Area team had been able to repeat that feat. It's been a journey to get where they are today – a weeks-long second-place ranking in Class 6A, a near-perfect section record, minus one heartbreaking loss in overtime, a long streak of consecutive wins, and holding roughly 10 teams to under 50 points – with an almost entirely new lineup this season. But it didn't happen overnight.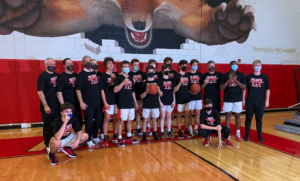 The team lost five seniors to graduation last year, so the process of breaking in a new starting lineup tested the program's strength and resiliency. Yet, once again, head coach Zach Skrinjar and the staff who has been with him from when he took over in the 2009-2010 season, flawlessly mentored some talented underclassmen to become key players. However, after the team dropped two games in a row early in the season, the players and coaches had to take a deep dive to micro analyze a lot of game tape. Seeing what was and wasn't working meant accepting a lot of hard truths that were holding them back from realizing their goals.
From that point on, things started to gel, and it became as much about mental and physical toughness as it was about executing an aggressive offense and defense.
"It wasn't anything we couldn't fix, and to their credit, they accepted what we pointed out," says Coach Skrinjar. "It wasn't pleasant, but it was something we had to do to get better and grow as a team."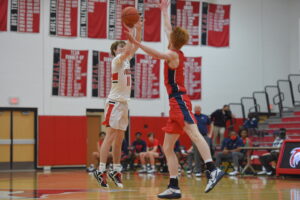 Coach Skrinjar, who has won three section titles in his 12 seasons with the team, adds, "I think at the beginning of each season you have a bunch of goals to check off. One of the first ones we have every year is to win the section. Having made history doing that is really special. Obviously, we also have bigger aspirations as we look forward to the playoffs. We always look forward to that."
Both the players and coaches firmly believe this team is very unique because of the incredible bond the players share. Most of them have known each other since they were children, played together for nine years, and consider each other family. While many people talk about team chemistry, this is the real deal.
"All of these guys are genuinely happy to see each other do well," says Coach Skrinjar. "None of them wants to be the guy who lets the others down."
About that surprise the coaches and team found out about on the night they celebrated their historic victory – it has a familial twist.
"My father was at the game when we won the title and had been looking around the gym at some of the banners," says the coach. "He was the one who noticed when the teams had last won consecutive titles." That happened during the 1965-1966 and 1966-1967 seasons.
He told me, "The last time Fox Chapel went back-to-back I was a junior in high school and just got my driver's license. I took your mom on her first single date (that year)."
The couple has now been married 45 years.
Good memories on the court and off.
(Video: Eli Yofan to JP Dockey to Kent Baldauf for a 3-pointer on February 20, 2021, against Baldwin)