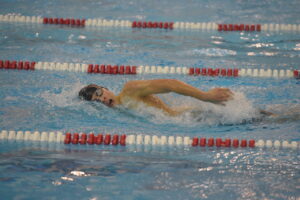 Editor's note: Fox Chapel Area School District athletics are paused until Monday, January 4, as part of COVID-19 mitigation efforts ordered statewide by Gov. Tom Wolf.
Foxes swim coach Dan Taylor is feeling very good about the potential of both his boys and girls teams. They have been in the pool since early June, and he likes what he has seen.
"Things are going really well," says Coach Taylor. "We're stronger depth-wise this year and we have some very strong swimmers on both the girls and boys teams. I really believe we're going to be very strong contenders at WPIALs."
Both teams compete in WPIAL Class 3A Section 3.
Girls Team Returns All-Americans
Sophomore all-Americans Sophie Shao, the PIAA champion in the 100 butterfly as a freshman, and Talia Bugel, who placed third in the 100 backstroke at WPIALs and was a PIAA qualifier, both return stronger and ready to add more new records to the school's history books. Both swimmers set new individual pool and school records last year and also did the same as members of the 200 medley relay.
Sophie broke the school record in the 100 butterfly, and Talia set new pool and school records in the 100 backstroke.
The relays are in very good shape, as only two girls, Grace Gackenbach and Leia Ross, graduated. The core group of  Sophie, Talia, senior Vivian Shao, and juniors Ariana Pasquella, Rei Sperry, and Julia Stutzman remains intact. Last season the 200 medley and the 400 freestyle relay teams advanced to the PIAA championships.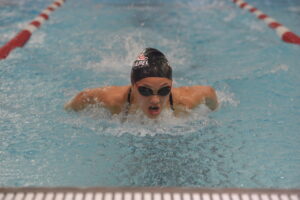 "We also have at least four freshmen who all are solid swimmers: Gloria Wen, Isabella Marcos, Anna Dering, and CJ Smith," says the coach. "Katherine Haas and Nora Siri are practicing hard and trying to get into the lineup too."
Vivian, a senior co-captain this year, talked about the potential she sees in the team.
"I believe the girls' team is the strongest it has ever been," she says. "Even though we lost some seniors last year, we have a very strong group of freshmen coming up. The majority of the team has been training vigorously and non-stop since June, and we are all extremely excited to finally race again."
Co-captain Rei Sperry will focus mainly on the 100 back and 400 free relay.  Last year was her first to swim the backstroke and she qualified for WPIALs in that event, placing 11th.
Her confidence in the team and her fellow captain, Vivian, is unwavering.
"I know for a fact that Vivian will 100% anchor the team," says Rei. "Not only is she such a strong leader, but she also is extremely organized and dedicated, and one of the fastest girls on the team."
In addition to the veteran swimmers, Coach Taylor says they have a crew of freshmen who are expected to add to the team's potency.
"We have a lot of talent and experienced kids this year who are putting forth 100% effort at practices and want to win the section again," adds the coach.
Boys Team Promises Strong Years Ahead
Boys' senior captain Ben Siri (100 backstroke and 200 IM) and junior captain David Dering (200 IM and possibly the 50 free and 100 fly) say they sense more serious attitudes about su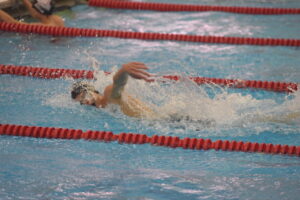 cceeding this season and welcome the laser focus and increased intensity.
David says, "This year's team is different because we started the season at a higher athletic level than any other year I can remember, and we are more focused on winning. Because many of the swimmers are members of the Killer Whales, we started the season about a month ahead of the normal schedule."
Coach Taylor is expecting good performances from seniors Ben, as well as  Nate Anderson; juniors David, Nathaniel Ross, and Holden Smith; sophomores Aadil Pattada and Emmanuel Drappatz; and newcomers Zachary Zornan-Ferguson, Henry Koloc, Peter Manelis, and Oscar Ruff. Zachary already has been breaking pool records during practices and has been tagged as having the potential to reach states in his maiden year with the team.
Ben adds, "The boys team is looking very strong this year. I think winning our section is a very good possibility for us."
"We have speed and depth and a lot of athleticism this year," Coach Taylor says. "And with the addition of this freshman class, I think it's going to be the beginning of several years of really good swimming."