When alum diver and honors student Jonah Cagley competed for the Foxes, he broke just about every school record, including a few of his own. He still holds the distinction of being named an All-American, was Fox Chapel Area's highest diving scorer, and was the school's first diver to become a WPIAL Class 3A champion. He won the championship twice and advanced to the PIAA championships three times, where he was a two-time medalist.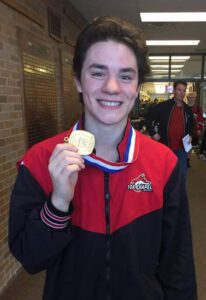 So, when it came time to select a college in his senior year, Jonah looked for a university that had a culture of academic success and a world-class diving program. He found both at NCAA Division I Duke University.
Now a sophomore, Jonah has continued his success through a lot of hard work and arduous training. Just recently, he was named as Duke's student-athlete of the week after his performance against North Carolina. He also is eighth in the Blue Devil's record book for his 377.63 top score on the three-meter board. His diligence in academics resulted in his 2020 selection as a College Swimming & Diving Coaches Association. Last year, he was named to the Athletic Coast Conference Academic Honor Roll.
As a freshman, Jonah's coach at Duke described him as having an "exceptional rookie year," highlighted by him reaching the finals in all three events at the 2019 North Carolina State GAC Diving Invitational. At the same competition, he took fifth-place in the three-meter competition and was 10th in the platform competition.
New Approaches Pay Off
"Before I got to Duke, I had never lifted in the weight room," says Jonah. "My high school training included a lot of body weight conditioning, but I feel that the improvement in my strength from lifting has made my dives more dynamic and easier to complete. I attribute this success to the mental preparation and countless hours in the pool and weight room."
Additionally, Jonah has an abundance of support that colleges have the ability to offer, in and out of the pool.
"I have been meeting with a sports psychologist every week to work on mental preparation and confidence on the boards," comments Jonah, a neuroscience major with minors in economics and visual and media studies. "My coach and I both think that every athlete can benefit from this type of guidance, and I personally believe that mental training is as important as physical training."
Jonah also has spent an enormous amount of time working on the small technical details of his performance and correcting mistakes. In the off-season, he focused on keeping in shape, but due to the pandemic, it was difficult to maintain his normal schedule.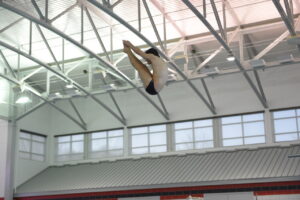 "This summer was the longest time period in my career that I hadn't dove, so the transition back to the pool at Duke was difficult, but most people were in the same boat," says Jonah. "I really tried to maintain my focus to get back to the level I was at during last year's season because I knew once I got back to school, it would be grind time."
He returned to the Duke campus that had morphed into a very different environment. Almost all of his classes are online, although the school does offer a hybrid academic option. He applauds the efforts Duke has undertaken to maintain a bubble for the athletic teams.
"Athletes are tested for COVID biweekly, and when travelling for a competition, we are tested every day the week before and after the competition. It has not been as difficult as I thought it might be," he says.
While Jonah is excited to see what he can accomplish this season, he also looks back on his days on the Foxes team with fond memories.
"I always enjoyed traveling to states with (then teammate) David Manelis and (Coach) Vernon (Yenick) during championship season," Jonah says. "We worked so hard during the season, and it was great to hang out with the team and goof around like normal teenagers outside of the pool."