When Carson Cohen, a 2018 graduate of Fox Chapel Area High School, finished playing basketball for the Foxes, his coach, Zach Skrinjar, knew he would continue to be successful in whatever he chose to do in life. He was right. Carson is living his dream of playing collegiate ball at Tufts University, a school known for its high academic standards, and, in only his sophomore year, became a starting point guard.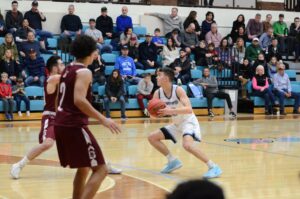 "I can honestly say that last year, my sophomore season at Tufts, was the most fun I have ever had playing basketball," says Carson. "I was really happy with how I managed my role as a starting point guard, but I know there is room for improvement. I have been working on improving my scoring at all three levels to take on the burden of losing our graduating guard, who was such an important player. I did not shoot at a particularly high percentage as I would have liked to last year, so my goal is to get that number up as well."
He continues, "Tufts plays at a really high tempo. I have developed an increased game IQ from my coaches and the amount of time I've spent watching film. In high school, I was predominantly looking to score, but through two years of college ball, I believe I have become a true point guard and facilitator."
Carson ended up ranking fourth in assists in the New England Small College Athletic Conference (NESCAC). He also earned a spot on the all-tournament team at the midseason New England Big-4 Challenge tournament. And for the first time in school history, the team tied the school record for the most wins in a single season.
But all of that came to an untimely halt when last year's second-round game of the NCAA tournament wound up being the end of the season.
Carson says, "Because of COVID, our season got cut short before we could play our Sweet 16 game. Now I realize just how fast a season or sport can be taken away."
It also prompted him to make a decision of his own, and this one was within his control – he chose to take a gap year during what would have been his junior year. In true Carson form, he is making the best of it by working as an intern with Stone Pier Capital in Pittsburgh through February. He's also continuing to work out individually and in small groups with his teammates, although he says it's been very difficult with all of the gyms closed.
"I am thrilled to have found a meaningful experience to keep me busy during the year and, although it is remote work, it allows me to live in Boston with my teammates," Carson says.
When Carson resumes on-campus classes in the fall, he will do so as a junior student and athlete.
Special Player for the Foxes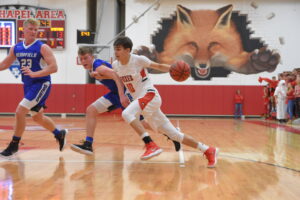 Carson also was resourceful, smart, and determined when he was a star player for the Foxes. He was a four-year letter winner on the varsity team, two-year varsity captain, and was twice named to the WPIAL Class 5A All-WPIAL team. A gifted athlete, he also started on the Foxes' soccer team for two years.
Zach Skrinjar, head coach for the Foxes' boys team, has very fond memories of Carson and what he meant to the program.
"I can't say enough good things about Carson," says Coach Skrinjar. "He could just flat out play basketball, and he played the right way. He was in total control of the game, which is what we want out of our point guard. He worked as hard as any player I have ever coached to improve his strength, quickness, and his overall basketball game. He was a natural leader and led by example; his work ethic was second to none. He was also as skilled of a guard as I have ever coached. He could do it all – score, shoot, finish, and defend. He was the total package."
"High school basketball definitely prepared me for college," adds the economics major with a minor in entrepreneurial leadership studies. "I was actually talking to Coach Skrinjar this summer and told him how thankful I am for how much he pressed us on details. Although there was an adjustment period at Tufts, Coach Skrinjar helped condense it because of his constant preaching of certain defensive principles."
COVID might be a bump in the road for Carson, but Coach Skinjar has full confidence that his return to the classroom and court will be every bit as remarkable as what he's done in the past. He says, "Trust me, Carson is just getting started."