David Manelis is the top boys diver in WPIAL Class 3A, and has been all season, just as he was last year. He was aware of that, although he doesn't spend a whole lot of time looking up that type of information. But when told he is also ranked first in the state, the humble senior was surprised. He quipped, "Really? I'll have to pay closer attention!"
What he is spending his time doing is perfecting his performances as WPIALs draw closer. The competition will be held February 27 at North Allegheny High School. David has been in this position before; in fact, this is his fourth and final trip before he begins diving for West Point next season.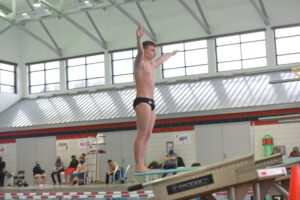 Earning a second consecutive gold medal would be a satisfying accomplishment for David. However, no matter how many people tell him his performances are spectacular, that's not what drives him. He is his own man, and his top goal is to be happy with himself.
"There are certain goals I have that I need to reach for myself, not for others," says David. "When I don't do my best, I put pressure on myself to do better the next time."
He did that at the recent meet versus Franklin Regional when he scored a perfect 10 on his forward one-and-a-half somersault with two twists. A second judge awarded him a nine on the same dive. David ended the day having his best showing of the season. He amassed 354.20 points that day – his highest score of the season so far – giving him an even more substantial lead in the WPIAL rankings.
"David has improved so much," says Foxes diving coach Vernon Yenick. "His entries into the water are significantly better. He has been making less splash, which is called a 'ripped' entry. It's called that because, when done correctly, it sounds like a sheet of paper being ripped in half. His aesthetics have really sharpened too. It's beautiful to watch him in the air."
The coach continues, "The divers who dominate always do so with an ease of effort and are relaxed with their shoulders down and back in a relaxed manner. That allows their arms to swing in a wide range of motion, which is imperative to executing a great dive. Proper body alignment is key!"
Going forward, Coach Yenick's goal for his student is to continue to sharpen his dives, be consistent, and just take it as a fun experience. And most of all, he doesn't want David to put too much pressure on himself.
"I just focus on my diving and try and keep out the distractions," says David regarding how he mentally prepares for big meets.
At this point in time, David is happy with his performances, and, considering he draws upon his own high standards (and his coach's) to gauge his success, all is well and good.