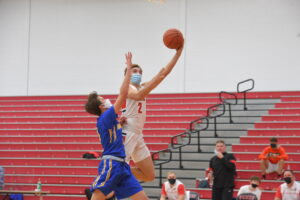 Much has been written about junior Eli Yofan and his awesome talents as an athlete, especially in basketball, and all of that is true. But, and Eli would agree with this statement, he would not be the player he is without his teammates. It is not 'Eli and his supporting cast' out on the court – it is Eli as part of a fine-tuned ensemble that, together, has been playing some pretty terrific basketball. The team has won 10 consecutive games, including A February 12 contest against section rival Central Catholic, and appears to be headed for a deep run in the WPIAL Class 6A playoffs that begin February 27.
Eli's fellow juniors, JP Dockey, Jake DeMotte, and Russell Fenton, are part of that special group that has been playing together since they were in third grade. This is the latter three's first shot as full-time varsity starters, but by the way they have progressed throughout the season, you wouldn't know it. They and their teammates have done an excellent job of filling the void left by five departing seniors last season. (Eli's story will be the second in this series.)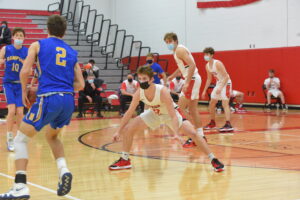 Head coach Zach Skrinjar had hoped this would happen at this juncture in the season. He says, "They all are doing a good job of embracing their specific roles and are more comfortable on the court, which is a natural progression as we go through the season. They have learned how to play together to get the most punch out of the games and have adjusted to the role they each play in that process."
Even though the team is considered undersized by basketball standards, the Foxes' defensive power has held six opponents to under 50 points this season. On offense, they have abundant skills that can reap baskets from anywhere on the court.
"Each of these three guys contributes in different ways, but what's great for us is that any one of them can be a double-digit scorer on any given night," adds assistant coach Gabe Skrinjar, who has been with the program for 12 years and usually concentrates on the defensive side of the game. "That ability puts even more pressure on the other teams to defend all of these options, and that's not even mentioning Eli and senior Kent Baldauf."
As of February 10, JP, Jake, and Russell have contributed a total of 344 points.
There are many athletes and coaches who talk about having a "team-first attitude," but it's obvious by watching the Foxes in action that their approach to the game is not just lip service. Each player brings out the best in his teammates, which creates a powerful bond of inspiration and trust. Using that positivity, the entire team is confident in their talent and believes no one can defeat them if they continue to play in sync.
Some of the Contributors to the Ensemble
JP Dockey, 6'1" point guard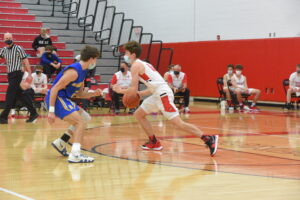 Besides Eli, JP brought with him the most experience of the three juniors. In the Foxes victory over Norwin, 63-52, on February 9, JP showed that aptitude in what became a statement game for him. He had a career-high of 24 points, 10 assists, and 11 rebounds. Overall, this year, he is averaging 11.7 points a game and 5.2 assists.
"I had 10 assists in a game last year and I have had 11 rebounds this year, but I've never done both of those in one game," says JP, who also is a standout varsity soccer player for the Foxes. "I think playing holding midfielder in soccer has helped me on the court as far as my ability to anticipate the next play and read the game."
Coach Gabe adds, "JP has made it difficult for other teams by not allowing their guards to get into their set plays and initiate their offense because of his constant pressure."
Even though JP hit a personal high in the Norwin game, he says the most satisfying one was a total group effort when they defeated Upper St. Clair. USC was the team that spoiled the Foxes' then-perfect regular-season record last year. This time around, the Foxes flipped that ending to a happy one by upsetting the WPIAL Class 6A top-ranked Panthers, 72-70.
"Everyone on the team thinks USC was our best game overall," says JP, who is known as an intense hustler on the court. "We went into the game knowing it was important and we really rose to our abilities. We always seem to play at a faster tempo when we face teams like that. Personally, I think I've stepped up my game, especially in a scoring role. I feel as though the team looks to me more this year to lead and score, but there's definitely room for improvement in my game. The coaches seem to have a lot of trust in me and that makes me work even harder. I knew coming into the season that I'd be guarded harder than last year, and that's happened, but I think I've done well."
Jake DeMotte, 5'8" Guard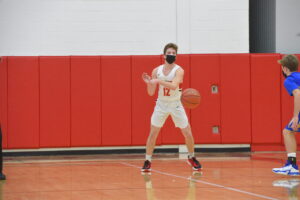 If Foxes' opponents take a look at Jake and dismiss him as an easy target, they are making a grave mistake. Doubling as a wide receiver on the Foxes' football team, Jake might be one of the smaller players, but he plays like a big guy. In fact, especially in sports, Jakes' vertical measurement has led to great character and toughness, and he has learned how to use it to his advantage.
"I've always kind of been the shorter guy and have come at it with a bigger chip on my shoulders, feeling like I have to prove myself," says Jake. "But it's not all about size; it's about perseverance and being tougher, and it's something I had to learn, to play confidently."
The guard has done just that, is very crafty with the ball, and just as disruptive against the larger guys as anyone else on the team. He also is playing with a level of confidence that has him averaging 8.2  points a game and 3 assists.
"We have Jake in a starting role this year and he's really been a good influence," says Coach Zach Skrinjar. "He fits a role we needed and is giving us what we ask of him. Jake is exactly what we needed in our lineup this year.
"My role is to bring defensive intensity on the floor and be ready to shoot the ball," says Jake. "I think some of my strengths are defense, shooting the ball well, and distributing it to other players. I'd say my biggest improvements from last year have been learning to play both ends of the floor with the same enthusiasm and my free-throw shooting."
Jake's career-high of 17 points came in the McKeesport game. He contributed seven free throws in the fourth quarter that went a long way in sealing the victory. In that game, he was matched up against a much bigger McKeesport post player, yet stood his ground and either boxed out, got the rebound, or enabled his teammates to get the rebound through his efforts.
"My scoring might have been the best at the McKeesport game, but I think my best game, and the team's best game, was against Upper St. Clair," Jake says, echoing his teammate JP's thoughts. "I think I'm a team-first player and will do whatever it takes to win games."
Russell Fenton, 6'2"  Guard/Forward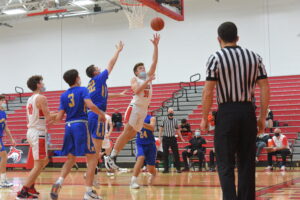 When Russell was called upon to step up into a bigger role this year on the varsity team, he was more than ready. In the offseason, he worked significantly on his athleticism and improved the speed of his game. It's working. Russell stats include averaging 7 points a game and 1.4 assists.
"I feel much more confident this season and believe my offensive driving and finishing abilities have seen an upgrade as well," says Russell of his transition to becoming a full-time starter. "I think my defense has greatly improved as well. We are a small team and I've had to guard players who were five or six inches taller than I am. I think I've held my own against them."
"Russell would traditionally be a guard, but often has to match up against a forward or center defensively due to our lack of height," says Coach Zach. "He has done a good job because he has the ability to step out on the perimeter."
One of Russell's greatest satisfactions, however, isn't even a personal accomplishment.
"We've all been teammates since third grade, and we have a special relationship," he says. "It's really been enjoyable to watch everyone's success because I've seen them hit those same shots and throw those same great passes for years. I'm extremely lucky to share the court with players who are so skilled, yet unselfish."
However well they have been playing, Russell also acknowledges that there is always room for improvement.
"I think we need to improve to the point where we are consistently balanced offensively," Russell says. "Our best wins this year have come in games where everyone was involved. We are at our best when we play cohesively as a unit and move the ball. If we can do that with some level of consistency moving forward, I think we will be very difficult to beat in the postseason."