For the past three out of four years, the Foxes boys cross country team has won the WPIAL Division 1, Section 4 championship. This year the group continued the tradition, but with the 2020 graduation of five-time state medalist (combined cross country and track) Christian Fitch, they all knew they would have to dig deep and perform better to continue their success.
"More than ever, we knew we had to improve our times, and we've seen good progress," says junior Jack Lorence, who has taken over the spot as the team's number one runner this season. "So, winning the section championship again is a really big thing. We came to get business done, and we did."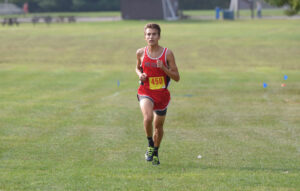 This year's sectionals were held at Northmoreland Park, a route that seemed to suit the Foxes' runners well. Jack led the team and placed third overall out of 72 runners. Senior Jose Morales was second for the Foxes and sixth overall, and close behind him was senior Shane Funk, who also finished in the top 10.
In addition to Jack, Jose, and Shane, the other members of the varsity team are seniors Jason Carter, Ryan Kenyon, and Joseph Staud; and juniors Andrew Byersdorfer, Owen Carter, Ethan Napolitan, and Alex Staud.
The total group effort satisfied Coach Tom Moul's advocacy of mental toughness. He says, "I thought we had a very good chance to win it, but Kiski and Indiana gave us a good fight. I'm really pleased with our guys' efforts."
Necessity Brings Opportunity
Christian is someone everyone admired, not only for his talent and how he was so committed to the sport, but for how his quiet leadership set a standard for the team. This season's remaining runners soon learned that the necessity to fill the gap Christian left behind actually led them to opportunities to test their own grit. That started shortly after school ended, and they were eager to get rolling.
So, feeling thankful there was a season this fall, the group was more than ready to do whatever was necessary to succeed. Coach Moul put together challenging and individualized workouts that ramped up their mileage. Christian even ran with the team at times during the summer months to help set the pace and also to prepare for his own upcoming season at Temple University.
The more difficult workouts were something that Jose, a four-year cross country veteran, was determined to do in his final year on the team. He says, "I changed my mindset this year. I really felt the need to perform better and that led me to change my mentality. I have really achieved more than I thought I could. No matter how tired I am, I keep pushing forward and I don't give up."
"We worked really hard and trained for so long," says Jack. "This team is really well-developed; we just need to let it all out on the course. We have all run together for more than three years now and we're a very tight group. When we run, it's like running with your family."
The Coming Weeks
Now, all eyes are set on the October 21-22 Tri-State Track Coaches Association meet (TSTCA) that will be held at White Oak Park in White Oak, PA. The invitational draws the region's biggest schools and the best runners. Only a week later, the team will compete at the WPIAL championships on the same course. In the past, both meets were held at California University of Pennsylvania, but COVID-19 restrictions necessitated a change in location. Not many runners were disappointed to hear the news – the Cal U. course features a giant killer hill that has severely tested even the best runners.
The guys have done well at White Oak and like it there. Earlier in the season, the team ran there at the Bald Eagle Invitational and placed fourth. Jack also finished sixth individually out of 140 runners, and Jose and Shane were among the top 25 medalists.
"That course is my favorite and I've run my fastest time there," says Jack. "The majority of the first mile is downhill, leading to a very fast split. To run it well, you just have to be assertive, competitive, and run smart. Our team has seen our fastest times there, but as Coach Moul always tells us, because all courses are different, times don't matter as much as where you place."
"I've seen a lot of dedication this year from the guys," says Coach Moul. "They are going out there and making things happen."
Jose adds, "I think we might even surprise ourselves with what we can achieve!"