When Aidan Oehrle got to the 18th hole at the October 6 WPIAL Class 3A individual golf championships, the senior knew he had to give it his all. If he didn't, he might land on the bubble of qualifiers, or even worse, miss out on his last chance ever to qualify for the PIAA tournament. He wasn't about to let that happen.
"I was hitting great all day, but not really scoring like I wanted," says Aidan. "I think I only missed two greens, but I struggled some on my putting. Then, on 16 and 17, I lipped out two putts and I was a little upset. I knew I had to do something a little crazy on 18, like pull off an eagle."
Aidan needed a small miracle at that point, says his coach Bryan Deal, but he dug deep and found a way to make it happen – he holed out a wedge for an eagle from 130 yards out that put him solidly in fourth place with a final score of four over par.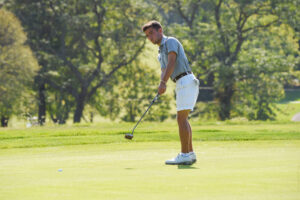 The top 10 players from the WPIAL championship now advance to the PIAA individual championship to be held Tuesday, October 20, at Heritage Hills Golf Resort in York, PA. Forty-eight players will compete for the title.
Heritage Hills is a course that Aidan likes, knows well, and invokes once-in-a-lifetime memories. It was at that course that Aidan and his teammates crushed every other team to win the 2019 PIAA Class 3A team championship.
"The main thing I like about playing there is I feel confident on it after playing well there last year," says Aidan, who shot a 69 on the 36-hole course. "I like the way it is set up; there are a couple of holes where you can be aggressive and make some birdies, and others where you need to be a little more conservative."
(This year due to COVID-19 restrictions, the state championship has been reduced to 18 holes for both the individual and team tournaments.)
"Golf is a game about feeling good about the course, and Aidan has that advantage," says Coach Deal. "The valuable experience he got last year has to make him feel good and will give him confidence. I believe he has as good of a chance as anyone to win."
"I would say one thing that I have improved from last season is my consistency and mental game," Aidan says. "Also, I have improved my misses, learned how to score better, and improved how I attack the game mentally."
Most of all, he has learned to trust himself and his abilities.
"I feel better about my ability to bounce back after a bad hole or couple of holes," he adds. "I have learned to always stay focused on the game and never give up on myself."