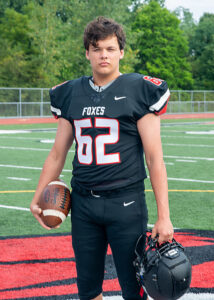 Like so many linemen who are not in the spotlight, Foxes senior football player Henry Gavazzi's name doesn't show up a lot on stats charts, nor is he one of the athletes who gets recognition in the media. But the unsung hero and impact player is an integral part of the team, and his teammates depend upon him to perform his job well.
"Henry is very motivated from within and takes pride in working hard so the team can succeed," says position coach Todd Massack of Henry, who starts at right guard on offense and has a good bit of time on the clock as a defensive tackle. "He is a team player who does whatever is necessary for the good of the team and gives his very best, no matter what the situation."
At 6'2", Henry is one of the team's biggest players. He uses his height and the strength he's gained in the weight room and as a wrestler to his advantage and stands out for his pass blocking, balance, and leverage skills.
"Henry is just fun to coach for many reasons," adds Coach Massack. "He has a great attitude, is always eager to learn, and consistently gives 100% so he can become the best player he possibly can be."
Head Coach Tom Loughran adds, "As one of our senior leaders on the offensive line, we expect Henry to perform at a high level and lead the way. Henry has shown that he's very capable of doing that and we're very happy with the job he's been doing for us."
Taking on a leadership role
Henry first started playing football in seventh grade at Dorseyville Middle School and says he always looked up to the older guys on all of his teams. Now, as a seasoned player himself, he sees opportunities to help guide the younger players. He thinks it's important to show a good work ethic and also to be a good listener if the underclassmen don't understand something or just need to talk. And, when game time comes, Henry takes it seriously and with business-like attitude. He says it is necessary considering the stiff competition that the Foxes face.
"Every week, we have to be ready for a bigger and better team," Henry explains. "You can get your assignment done, but football is a physical game. I think a lot of it just comes down to aggressiveness. I'm a hard worker who loves to get physical and I have the mindset that I need to get better."
Henry's fellow linemen on offense, who also deserve recognition, but don't regularly receive it, are seniors Thomas Golembiewski, Evan Kuhn, and Kevin Valdez; juniors Nick Korbe and Caleb Kulikowski; and sophomore Sean Feczko.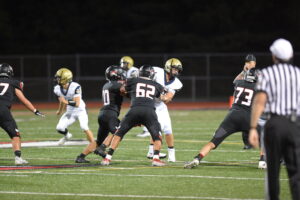 Two-sport athlete
Henry's affinity for contact sports led him to try wrestling as an adjunct to football. His twin, Zane, was already on the Foxes team and was the one who convinced him to sign up when he was a sophomore.
"When I decided to wrestle, I thought it would be a good way to improve as a football player," he says, but he's also found success in that sport, too.
Last year, Henry worked his way to become a varsity starter in the 195-lb. weight class and that's where he hopes to stay this season as well. During the 2019-2020 season, Henry advance to the quarterfinals at the prestigious Allegheny County High School Wrestling Championships, where most of the county's top wrestlers participate.
"Wrestling has made me more physically and mentally fit," Henry says. "Once you wrestle, almost everything becomes easier!"