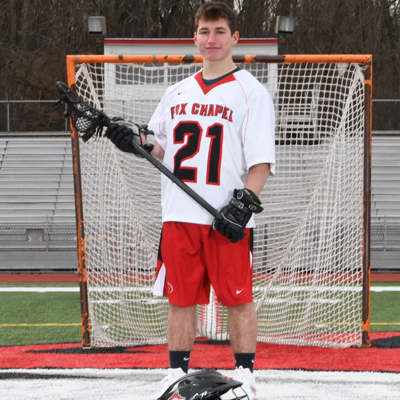 Once lacrosse attackman Reed Seybolt gets the ball, it's hard to get it away from him. In fact, the senior has been darting around defenses with such consistency, slickness, and fluidity that his teammates refer to him as "slippery."
His talents also have resulted in his top spot in points and goals on the offensive leaderboard for the past two years. He scored 41 goals (63 points) last year, and, as a sophomore, he contributed 26 goals (40 points). The final count is yet to be determined for this season, but through nine games, he's already tallied 30 goals, and his influence certainly has contributed greatly to the team's midseason record of 7-2.
"Reed is equally good with both hands to the point that it's hard to discern his stronger hand," says Coach Kevin Devinney. "He's fast and quick, which make him hard to cover, and he's strong on ground balls. He can dodge, pass, and shoot, which make him a triple threat. Players like Reed don't come around often."
The coach remembers several times in past games when the team was in total awe of Reed's abilities.
"This year he scored a between-the-legs goal against Central Catholic," says Coach Devinney. "I don't think he was trying to be flashy; he was being confident and creative and saw that shot as the best opportunity to find the back of the net. Everyone on the sidelines was saying, 'Did he just do that? Yep!'"
The lacrosse coach also recalls a close game last season against Hampton when the Foxes got called for a penalty and were a man down. They managed to get the ball, but knew their opponents were going to double the ball carrier since they had an extra man.
"Reed was the one who got doubled, but he split the defenders with some juke and spin moves, and scored a goal short-handed. It sealed our win and put the game out of Hampton's reach," Coach Devinney says of the Skidmore College recruit.
Best Memories
Reed's best memories of his varsity years are team-oriented.
"We'd never beaten Mars before, and last year they beat us by a good amount," he says of one of the WPIAL's top-ranked teams. "But this year, we beat them and it was my highest scoring game with five goals." Mars has won the WPIAL Division AA title for three consecutive years entering this season.
Reed continues, "Peters was a great game, too, because they've embarrassed us the past two years, but we beat them this time. With Shady Side, there's always been a lot of back and forth wins, and it's definitely a good game and a big rivalry. We really want to beat them again. Last year, on their senior night, the team and I played really well, we won the game, and got the co-section championship."
No Stranger to Adversity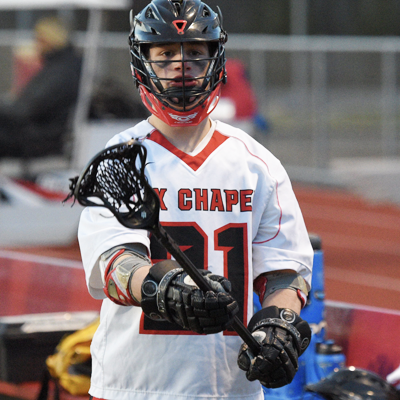 Reed says he thrives on the physicality of the game, but it's exactly that aspect of the sport that has sidelined him after a come-from-behind hit during the recent game against Peters Township. He already had scored four goals in the first quarter before sustaining his injury. Now he will be out of the lineup for several weeks, but hopes to return in time for the WPIAL playoffs. Reed isn't letting the situation get him down, however, especially after he and his teammates have worked so hard to earn their best start to a season since he was a freshman.
Coach Devinney is optimistic that his co-captain and vocal leader will return before the conclusion of the team's run this season. He explains, "With injuries, it's always a wait and see approach. We need him to be fully healthy before returning to the lineup. But if he's able to make it back in time for the playoffs, it certainly will give our offense a shot in the arm."
But even if he's not playing, Reed still is a role model, on and off the field.
"Reed is usually the first to be ready on the field, often starts up our drills, and leads by example" says the coach. "He is a good motivator as well. The guys look up to him because he is intense on the field, but really easy going otherwise."
"I like to think of myself as a positive person," says Reed, whose personal goal to score 25 goals came after only the third game of the season. "One thing I've learned from sports is it's not over until it's over. Individual things can go wrong, but you have to continue to work together."
Even without being part of the field action, Reed concludes, "I'm really excited about what we've done this season so far, and now I'm going to focus totally on the team, try to be a leader from the sidelines, and take care of myself. I know these guys can do it. They're getting better and better every game."