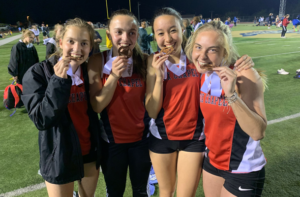 With senior sprinter Kate Carnevale leading the way with four medals, many of her teammates from the Foxes' varsity boys' and girls' track and field teams also did well at the 55th Butler Invitational that drew more than 1,600 participants and 72 schools.
The event was so large, even more so than the WPIAL championships, that some athletes' starts didn't occur until well into the evening's darkness. Everyone at the invitational might have been a bit weary at that point, but many of Fox Chapel Area's racers and throwers continued to earn medals.
Kate was voted as the female MVP track athlete. She won the 100-meter sprint, placed second in the 200, and was fourth in the 400. She added a bronze medal as part of the girls' 4 x 400 relay team that also included senior Sarena Seeger, and junior sisters Abby and Maddy Kiefer.
Sarena brought home three top-five awards, including her medal for the relay. She also placed fifth in the 1,600 and 3,200 races.
Grace Sisson, a junior, was eighth in the 1,600. She reached the 3,200 finish line in sixth place, right after her teammate.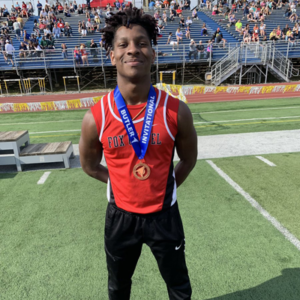 In the boys' distance events, junior Christian Fitch was fourth in the 1,600 and 3,200 races. Senior Korey Simmons set a personal record in the 110 hurdles and was eighth.
Just out of medal range in ninth place were distance runner Brooke Krally in the 1,600, and sophomore discus thrower Jessica McCann, who finished ninth in her field event.