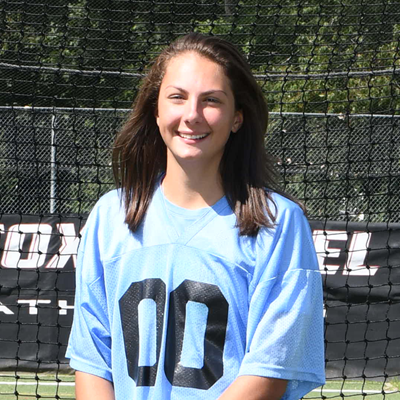 When Director of Athletics Michael O'Brien told Marissa Hardiman that she had won one of only 10 $1,000 WPIAL scholarships awarded to female athletes, she was pretty surprised. She shouldn't have been, because the tri-sport scholar athlete has excelled at just about everything she's done since beginning her freshman year at Fox Chapel Area High School.
"I had looked up past winners and they all played sports in college, and I decided not to," says Marissa, who bucked her family's tradition of enrolling at Notre Dame to go to Georgetown University's College of Foreign Service. "I was really excited. It's a big honor."
The awards are issued annually to 10 males and 10 females and are based upon applicants' athletic and educational achievements, as well volunteer and community service activities.
Marissa has been a varsity starter on the field hockey and lacrosse teams since she was a freshman. She decided to add indoor track last year and ran the open 200 and 400, and often was a member of the 4×400 and 2×200 relay teams.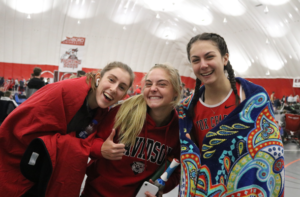 "When I was a freshman and sophomore, we were the WPIAL field hockey champs, and section champs for three years," says team goalie Marissa, who has played sports pretty much her entire life. "In lacrosse, I'm a midfielder. We were the WPIAL runner-up last year and section champs in my sophomore and junior years."
Throughout high school, Marissa also has challenged herself academically by taking numerous Advanced Placement classes. She holds a grade point average of 4.33, something that probably was a big factor in her selection as an awardee.
Even though Marissa spends every season in practice, competing, or studying, she still has found time to give back to her community. She does a lot of volunteering, some in support of the environment, and also has gone on many mission trips with her church.
At school, she is a member of the National Honor Society and Spanish National Honor Society. She also serves as co-president of the Latin Club and participated in the school's Big Brothers/Big Sisters program for two years.
The biggest challenge ahead of Marissa may not be in what she does, but in what she doesn't do. After playing sports from a really young age, starting with soccer, she made the tough decision to bow out of varsity athletics during college. She certainly could have played on many field hockey and lacrosse teams, but wants to concentrate on her studies.
"I've always been drawn to team sports, so not playing is going to be a big change," she admits. "I'll definitely have to play in some capacity, perhaps at the club level."
"Marissa epitomizes what it means to be a student athlete," says Mr. O'Brien. "She is positive, leads by example, and is a role model in the classroom and on the field. She is exceptionally dedicated to both academics and the sports she plays, and always holds herself to the highest standards. I have no doubt that she will continue to be successful in whatever endeavors she chooses in the years to come."