While most of their peers were relaxing and enjoying time off during the winter break, the Foxes wrestlers were hard at work at the Southmoreland Holiday Classic Wrestling Tournament, a two-day competition that drew 29 schools from across the region. It was a first-time event for the Foxes, and they were matched against a mix of teams that they don't typically face, but it proved to be a worthy expedition. Some of the team's youngest members contributed medal-earning performances, and the entire team gained valuable experience.
Sophomore Josh Alexander was the Foxes' highest place-finisher, earning the bronze medal at 126 pounds. His record so far this season stands at 9-3. Josh knew going into the tournament that there were at least two very skilled competitors in his weight class, and that did prove to be true, but it didn't stop him from earning a 5-1 record and making it to the quarterfinals.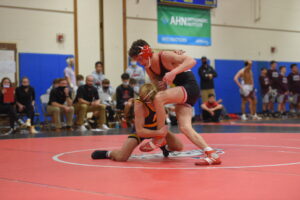 Teammate Alex Kaufmann, also a sophomore, finished in fourth place at 145 pounds in the largest high school tournament he's participated in so far. Overall, he has a 10-3 record this season. Alex had a few goals going into the competitions and explains, "My main goal for the tournament was that every time I stepped on the mat, I wanted to wrestle my hardest and give it everything I have. I also tried to experiment with new techniques when I found the opportunity because I have fine-tuned some techniques and feel more comfortable in different positions."
Coach Michael Frank wasn't surprised to see where Josh and Alex placed, saying, "I was happy to see them find success. They have been consistently working hard in the practice room, and it showed in their matches. They have dedicated themselves to improving, especially this past offseason, and those things are starting to pay off.
"Our overall goals for them, and all wrestlers on the team, are for them to understand and focus on what they do best, make sure they always work toward their goals, and help them expose others' weaknesses, while focusing on their own strengths. We just wanted to see our team compete at a high level, and that happened consistently over those two days."
Freshmen Landon Funk and Luke Ankney are two more Foxes who proved they are competitive in sizable competitions. Landon placed sixth at 106 pounds and Luke finished eighth in the 132-pound weight class.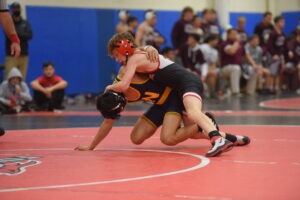 Most promising for the future of the program is that the Foxes now have the depth they have been seeking that allows them to enter multiple wrestlers in each weight class. Coach Frank says, "It was great to see everyone wrestle. In some weight classes, we picked up wins from both wrestlers that we entered, although some of our regular starters were out for different reasons, and it was disappointing to not see them have that chance to compete."
Throughout the tournament, the head coach says the staff talked among themselves and discussed details such as, "Did they wrestle hard in all three phases, did they follow a game plan, and did they capitalize on their opponents' mistakes?"
Coach Frank answers from an overall perspective. "We were happy how we finished, both as a team and on an individual basis. We know where we need to work as a team and what each specific wrestler needs to address as we move forward in the season. We are steadily improving, finding areas that need further development, and focusing on those things in the practice room. We are encouraged by how the wrestlers are still coming in every day eager to learn and improve on themselves individually, which in turn, helps the team."