Up until about three years ago, many people were surprised to see former teacher, coach, referee, and athletics faculty manager Bob Gerhart still working the gates at Foxes sporting events. After all, it had been decades since his retirement from teaching in 1989, and even longer since he first joined the Fox Chapel Area School District faculty in 1954. Recently, Bob passed away at age 88, but he leaves a legacy of dedication and service that will not soon be forgotten.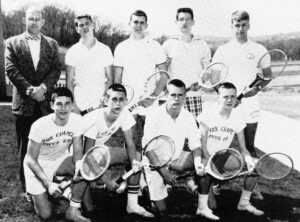 Bob worked for the district in some capacity for more than 65 years. While he started as a math teacher at Kerr Elementary, Bob soon became an integral part of the high school athletics program. He coached the school's first boys' varsity tennis team and remained in that position for 20 years. He also was a varsity boys soccer assistant for six years; served as a sports official for basketball, soccer, and volleyball; and was the athletics faculty manager for many years. At one point, Bob even judged diving events and served as an athletic trainer when high schools did not have them yet.
Even after Bob's retirement from teaching, he remained a welcoming face at Foxes sporting events, where he often worked the gates collecting tickets. He loved that contact with some of his former students, some from the 1950s and 1960s, who seemed to be surprised that he was still with the district, and enjoyed meeting the newer members of the community as well.
"Bob loved the Fox Chapel Area, and his dedication to the school district and our athletics program is unmatched," says Michael O'Brien, director of athletics. "He was an institution in the district and cared deeply about students, many of whom still remember him fondly. He only stepped down when health problems prohibited him from doing the work he loved and was so dedicated to."
The breadth and importance of Bob's contributions and his eagerness to help wherever he was needed perhaps can best be summed up in his own words from a 2015 interview. He said, "If it exists around here, I did it."
Thank you, Bob, for being such a champion for the entire Fox Chapel Area community and to your family for sharing you with us for so many decades. You will be sorely missed.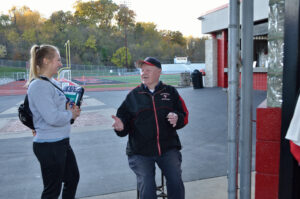 Editor's note: A story about Bob appeared in the winter 2015 issue of IN Fox Chapel Area magazine. You can read it here.