On a summer day in 2012, a young, impressionable girl was watching the Olympics when five-time gold medalist and world record-holder Missy Franklin piqued her attention. The girl was so impressed with the gifted swimmer that she decided on the spot that she wanted to take swimming lessons "because swimming looked fun."
Now, nearly 10 years later, that girl, Foxes junior swimmer Payton O'Toole, is making some history of her own. A newcomer to the team, she just broke the 200 freestyle pool record with a time of 1:55.19 and became an automatic qualifier for the WPIAL Class 3A championships in that event and also the 500 free.
Swimming remains fun and exciting for her, but she has since learned that being good at it takes a lot of hard work. Her years of training also brought out a competitive spirit and drive that make her thirsty for more. Such is the case with the 200 free and her other events, but especially in the 200. She remains confident that she can do better in the weeks to come.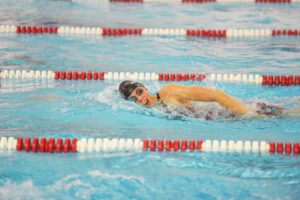 "I've set a goal for myself to get to the low 1:50s in the 200 by the end of the season and WPIALs," says the member of the Fox Chapel Area National Honor Society who volunteers as an athlete representative for the USA Swimming Allegheny Mountain Technical Planning Committee. "But I'm more focused on placing at WPIALs, rather than a time, per se."
Being able to fulfill her lofty goals motivated Payton to do more work to improve her underwaters in the offseason. "I've worked really, really hard on them," she says, but she notes something else that she views as a strength – her rhythm and feel for the water. She is referring to her ability to be aware at all times of how her body is moving with each stroke, from head to toes.
Because Payton only moved to the district in April 2021, she knew she was joining a tight-knit group that has had a lot of success, especially in the past few years. It never was a problem for her though, especially since she knew some of the swimmers from Killer Whales coach Dan Taylor's club team that has groomed many young swimmers and is a great feeder system for the high school. "Everyone has made me feel very included, which is nice."
"Payton has really settled in with her new team," says Coach Taylor. "She put in a lot of quality work over the last several months, and that work is reality paying off. I am excited to see what she can do at the end of the season."
The coach is rotating Payton in different events to see where she feels most comfortable and can be of most help to the team. She says her primary and favorite events are the 200 and 500 free but quickly adds, "Another favorite is the 100 free and then there's the 100 backstroke, too." She also is a member of the 400 free relay team, which she loves because she can compete with her friends.
Obviously, Payton just loves to swim, no matter what the event. One question yet to be answered is whether she could challenge junior teammate and WPIAL medalist Talia Bugel in the 100-backstroke. She replies with a laugh saying, "Oh, no, Talia is the queen of the backstroke!"
Whatever happens between now and the final whistle at the PIAA Class 3A championships, Payton just wants to remember her first year as a Fox with satisfaction. "At the end of the season, I really just want to look back and be proud of where I placed at WPIALs and hopefully states, know I had fun, and gave it my all."