Freshman Sophie Shao took home her first high school gold medal in the 100 butterfly at the WPIAL Class 3A swimming championships, but she doesn't remember much about it. Her winning time of 54.74, a personal best, beat her own school record and she swam even faster than her WPIAL qualifying time of 55.12 that had earned her the top seed.
Sophie's win represented back-to-back gold medals for Foxes' individual swimmers; prior to last year, it had been 24 years since the school had a swimmer at the top of the podium. "I feel honored to be counted among such a prestigious group of swimmers," she says.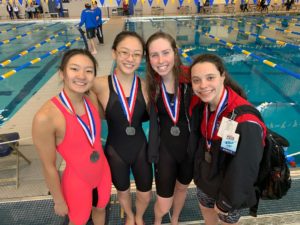 Only 15 years old, Sophie says she was so unnerved by the important meet that her mind is a total blank about what actually happened. "I was so nervous and I didn't want to let down my teammates," says Sophie, who also qualified for states in the 100 breaststroke and as a member of the 200 medley and 400 free relay teams. "I'm just relieved it's over but I'm starting to get really excited about states. I heard there is a girl from (PIAA Class 3A) District 1 whose time is very close to mine. I just hope I don't get too nervous; I really want to win states!"
While Sophie might not remember the details of her golden race, her coach, Dan Taylor, does.
"Sophie took it out very fast," says the coach, "It was her fastest yet. What I remember most is how smooth and quick she was. I was just hoping she could hold on, and she did."
Going into the AAA PIAA Swimming and Diving Championships that will be held March 12-13 at Bucknell University, Sophie is again the top seed in the 100 fly, making her the fasted girl in the event among all age groups. As she prepares for states, Sophie doesn't want the pressure of living up to everyone's expectations, including her own, to stand in her way. She says, "I'm getting really excited about states, but I know there is a girl from (PIAA Class 3A) district 1 whose time is very close to mine. I just hope I don't get too nervous; I really want to win states!"
One thing she was not happy about was her time in the 100 butterfly. She touched in at 1:05.01. "I hurt my knee in the warmup pool before the race and was rubbing it as I was getting ready to swim. I know I'm capable of getting my time down to around 1:03," Sophie says.
As often as he can, Coach Taylor reminds all of his swimmers that these occasions should be fun.
"I always make a big deal that they need to enjoy the experience," he says.
More Well-Deserving PIAA Qualifiers
In addition to Sophie, senior Leia Ross and freshman Talia Bugel are individual PIAA qualifiers in the 100 backstroke. Talia had been the top-ranked swimmer going into WPIALs, and her beat her own school records twice within the previous two weeks. She finished third at WPIALs with an impressive time that was even quicker than her qualifying time. Leia also had a great race and finished fourth at WPIALs with a time that shaved a lot off of her qualifying time.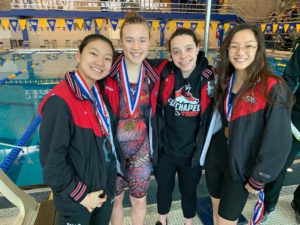 But it was the 200 medley relay team that actually got the day off to an exciting and solid start when it won the bronze medal in 1:45.92. The 200 medley swimmers include junior Vivian Shao, sophomore Rei Sperry, and freshmen Talia and Sophie. Coach Taylor was very pleased with their results and those of the 400 free relay team that finished in second place with a time of 4:32.99, just missing the school record by a little more than a second. Members of that team are senior Grace Gackenbach, Vivian, Sophie, and Talia.
As a team, the Lady Foxes placed third at WPIALs. It was only the second time since 2007 when they were the AAA WPIAL runner-up that the girls team stood on the winners' podium.
"Honestly, this was exactly how I had mapped things out," says the coach. "Over the next week or so, we will work on fine tuning some things, their speed, and just keeping them in shape. These girls are very fast, but at states, all of the heats are fast," he adds. "I feel very confident they will be fully prepared."