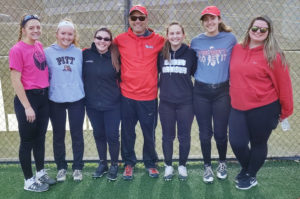 First-year Lady Foxes softball coach Chris Olbrich, M.D., tells a funny story about one of the reasons why he loves coaching the sport. It all began when he convinced his son Nathaniel to play baseball when he was young, and then his daughter Samantha, wanting to be like her older sibling, began playing too. Coach Olbrich vividly remembers the first time his feisty daughter played with the boys as a result of wanting to play the best kids.
"She was maybe eight or so when she played her first game with the boys. That was when dads still pitched to the kids," says Coach Olbrich, whose two children are Fox Chapel Area High School alums. Nathaniel was a baseball player, and Samantha, who went on to play catcher for Wheeling Jesuit, was a softball standout. "The dad kept getting closer and closer to her and crouched down, almost to the ground, to pitch to her. She wouldn't come out of the box. She told him, 'Pitch to me like everyone else.'"
That grit carried over to high school, when his daughter was on the team, and Dr. Olbrich began his relationship with the softball program as a parent volunteer. Even after his daughter graduated, his interest in the game didn't wane, so he became an assistant coach.
"I don't think there are enough good coaches when it comes to working with young women," says Dr. Olbrich. "I see my role as not only coaching the game, but also helping to instill the kind of confidence and communication skills they will need well beyond playing softball."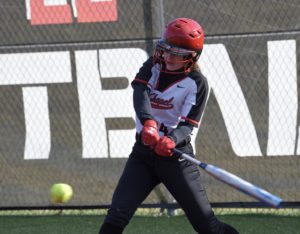 Not Always the Plan
As a busy family medicine physician who travels between two locations, including an office at UPMC St. Margaret, Coach Olbrich wasn't really thinking about continuing on after former coach Lisa Hess resigned at the end of last season. But, at the senior banquet, something changed. There were a lot of tears, in part because of the unknown and wondering who would take over the team.
"My wife, turned to me and said, 'You know, you can't leave these girls. You were born to do this,'" says Dr. Olbrich. "So far it's been really enjoyable; I just need to be very efficient to balance everything. From March to May, I start at the office early in the day and work straight through until it's time for practice. Then, when I get there, it's just an awesome experience to be around such an enjoyable group of young women who are hard-working, enthusiastic, and very coachable."
The coach says that, in many ways, being a physician and coaching have a lot of similarities. "In both, you are answering a lot of questions, working out a plan, and listening without being judgmental. I've been exposed to a lot of personalities as a doctor, so I think I can talk to just about anyone." 
The Team
The Lady Foxes return 11 letter winners and a lineup that includes five seniors – Nicole Blackwell, Joanna Delaney, Claire Katz, Jessica Klein, and Abigail Troutman. Skye Lewandowski is the team manager. Jessica had the top batting average last year at .436 and her on base percentage was 439. Nicole has returned after missing last season due to injuries and Joanna took a year off to run track. Both are expected to make positive contributions this year.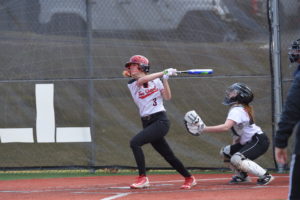 Coach Olbrich also has high expectations for junior all-section first team outfielder Nina Pietropaolo, who batted .421 last season; junior Justice Carmody who will play second base; and sophomore catcher Amelia Herzer. He believes they will see very good performances also from sophomores McKenzie Borkovich  (pitcher), and freshman Hunter Taylor (shortstop). Other varsity players whom the coach is counting on to contribute to the team's success are junior Macayla Weiner (second base), sophomore Brynn Palmer (third base), and freshman Gianna Moran (first base).
Additionally, seniors Abby Troutman and Nicole Blackwell will be important to the team due to their flexibility as utility players.
"There are a lot of younger players on the team this year and they are all working very hard and are eager to learn, which is good to see," says shortstop Claire, a team captain, along with Jessica. "Plus, all of the returning players got to see varsity time last year, making them even more ready for this season."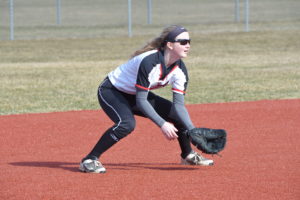 Coach Olbrich says they are in a "ridiculously hard section" and play teams from the largest schools in the area, including North Allegheny, Pine-Richland, and Seneca Valley. It can be difficult at times and the girls can get down on themselves easily after losses.
"We just have to remain positive and play the best we can and always leave it all out on the field, no matter the opponent," Claire says. "I think for us to be successful, it will be important to keep our heads held high, even if we experience tough times, and I feel confident that we will be able to do so."
"We have good depth this year, a large team of 23, and a group of seniors who all will have leadership roles," says Dr. Olbrich, who describes his coaching style as firm but fair and approachable. "I have noticed a big difference in them as compared to last year as far as maturity and focus. When I first saw them in preseason I told them, 'I can see you've been practicing, girls!'"
He adds, "They are definitely getting better. My goals right now are to win more games and create a sense of family and respect for what a team is and how it succeeds. It will take time, but I think this team gets it; they feel it."