Seniors Christian Fitch and Grace Sisson, and sophomore Nele Frank each locked up individual invites to the PTFCA (Pennsylvania Track and Field Coaches Association) state meet after their great performances at the qualifying meet held Feb. 22 at Edinboro University. The girls distance medley relay (DMR) team, comprised of all seniors, also advanced. The members of the team are Abby Kieffer, Maddy Kieffer, Brooke Krally, and Grace.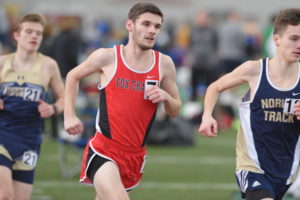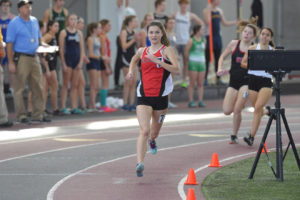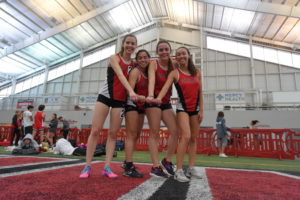 Newcomer Nele, an exchange student from Germany,  qualified in the long jump. Prior to the meet, Christian and Grace had already qualified for states in the 3,000 and mile, respectively.
"Nele jumped very well," says Coach Tom Moul. "She seems to be taking it all in stride. We had actually heard good things about her from her host family and she's been even better than expected." (Nele is an exchange student from Germany)
The coach was particularly pleased with the performance of the DMR team that set a new school record and came in second place, calling it "an amazing race."
"This group knows when they have to get a job done, and they rise to the occasion," explains Coach Moul. "They were really motivated to get to states as a team, but, actually, they were a longshot. They not only advanced, but cut 18 seconds off of their time from last year. It was a really, really impressive and gutsy performance by the four seniors."
The PTFCA indoor championships will be held March 1 at Penn State.
Medalists
While they did not qualify to move on, the Foxes did have other athletes whose admirable performances qualified them as medalists at the TSTCA meet.
Sophomore Caleb Kulikowski was an individual medalist in the shotput. He placed seventh.
Relay Medals:
Girls 4×400: 4th place – Carlie Barnett, Kaylee Uribe, Maddy Kieffer, and Abby Kieffer
Girls 4×200: 5th place – Carlie Barnett, Lauren Himmel, Kaylee Uribe, and Nele Frank
Boys 4×800: 5th place – Ethan Napolitan, Oscar Oliva, Jacques Moye, and Ethan Flanders
Boys 4×200: 8th place – Jarred Helgert, Ziggy Thomas, Maurice Sampson-Schulter, and John (Max) Lucey