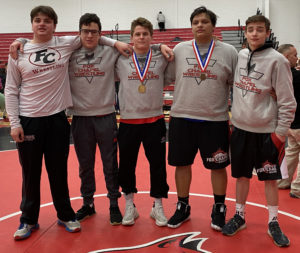 It had been two years since a Fox Chapel Area wrestler won a section title, but senior Alex Wecht powered his way through the 160 lb. weight class at the Feb. 22 WPIAL 3A Section 3 tournament to change that. He now advances, along with four of his teammates, to the WPIAL Class 3A tournament that will be held Feb. 27-28 at Canon-McMillan High School. The other qualifiers are senior runner-up Eddie Farrell at 220 lbs.; senior Luke O'Connor at 182 lbs.; and sophomores Ray Worsen at 120 lbs. and Jordan White in the 285 lb. weight class.
A goal reached
After competing in two other matches during the tournament, Alex faced an opponent from Knoch High School in the final bout who was undefeated this season with a 20-0 record. But that didn't faze Alex, who says his biggest improvements over last year are his confidence level and ability to dominate from the time the first whistle blows.
"I knew he was beatable," Alex says. "I had wrestled a lot of hard competitors this year that I knew he had not, so I just pushed the pace and showed him some things he hadn't seen before."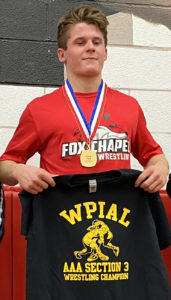 Coach Michael Frank says Alex's success all comes down to his work ethic, whether it's in the classroom, on the football field, in the weight room, or on the mat.
"To be honest, Alex wasn't all that great when he began wrestling for us when he was a freshman," Coach Frank says l aughing, "but he has put in the time to improve his skills, strength, and conditioning. His progress comes from eliminating mistakes and he put in a lot of time after last year's season was over by competing on the mat in the spring and summer. That really helped with his development and we've seen how he consistently puts himself in a position to succeed."
That success is quantifiable. This season so far, Alex has achieved a 26-6 record, nine of them pins, one technical fall, and two major decisions. Perhaps one thing that's become a signature move for him is lifting his opponent totally off the ground and up into the air, which is not only impressive to watch, but also strips the other wrestler of a defense response. Alex says, "Yeah, I like to do that; it's really fun!"
"Alex lifts as well as anyone else I've seen – he's explosive," adds Coach Frank.
Alex's strength also comes from a different type of lifting – in the weight room. He is a fixture in the Foxes' weight room and, pound for pound, is probably one of the strongest, if not the strongest athlete there, other than maybe teammate Eddie. Alex credits his dedication to lifting and the school's strength and conditioning program as reasons why the coaches at Trinity College are so eager to have him join the team and wrestle for them next year.
"My goal all year was to be a section champ, and I worked on it all year," says the first team all-conference football player and wrestling All-American scholar. "Now that it's happened, I'm going to face some very tough competitors at WPIALs. Until then, I'm going to just try to stay healthy and continue to improve my stamina."

Four Other Foxes Advance to WPIALs
Allegheny County Wrestling Tournament Champion Eddie might have been disappointed that he didn't repeat as the champion in the 220 lb. weight class, but he had a good showing over the weekend and still has a chance to rectify his loss in the championship bout. As the runner-up, Coach Frank says he probably will end up seeded in the WPIAL 3A top five or six.
"Dawson Dietz, the wrestler from Hampton (who beat Eddie) is a real quality wrestler, but Eddie beat him last year," says Coach Frank. "If he has a good day at WPIALs, he still could make the top four that go to states."
Sophomore Ray advanced to WPIALs last year too, which led the coaches to have higher expectations of him this season. Coach Frank adds, "I think Ray had one of his best overall days at sectionals. He is constantly improving and I'm proud of him. He's worked really hard."
Coach Frank also had high praise for his other two qualifiers, Jordan and Luke.
"Jordan is probably one of the most improved wrestlers this year. It's hard when you're young in the heavyweight position because you are competing mostly against upperclassmen. He has developed his mental approach and he's not backing down."
Luke O'Connor finished in fourth place and just might be one of wrestling's best "feel good" stories this year. While many of the best wrestlers begin the sport at an early age, Luke only started in his junior year, and didn't become a starter until this season.
Coach Frank says, "His progress has been pretty remarkable and stems a lot from his physical strength. He is Alex's practice partner so he works really hard! It's just remarkable what Luke he has achieved in such a short amount of time, and I'm so glad to see his personal success. From the end of last season, Luke never missed an opportunity to improve. He was a fixture at all of our off-season practices."
Overall, the coaches were pleased with the results of the weekend, even if they were hoping to get one or two others through to WPIALs.
"The best part was that every kid wrestled their best, whether they qualified for WPIALs or not. It was good to see that everyone put up their best effort when it counted," says Coach Frank.