David Manelis crushed the competition at the WPIAL 3A diving championship on Feb. 22 and, by doing so, continued the Foxes' four-year flow of gold medal winners. His victory came after a few years of watching and learning from Foxes' alum and the schools' all-time best diver (so far), Jonah Cagley, and with the help of new diving coach Joey Ference. This year was David's time to shine. He was the heavy favorite going in and did not disappoint. His mark of 524.90 was more than 100 points higher than the runner-up's.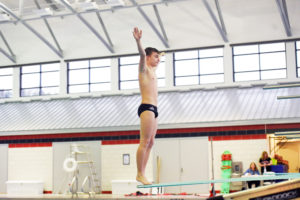 As he's done the past two years, David now moves on to the PIAA 3A championship where, last year as only a sophomore, he claimed the runner-up spot, ahead of his teammate and mentor.
Coach Ference, who was a two-time WPIAL and PIAA champion in high school and went on to be a star for the University of Pittsburgh said, "The most important thing I emphasized to David was staying relaxed and always being confident on and off the diving board. Diving is not only about the flips and twists; it's about what's going on between your ears, and that's what's most important coming into a diving competition. Knowing I can put myself in his shoes at any time helps me boost his confidence and allows me to give the best advice possible."
Soft-spoken with a fairly mellow approach to challenges, David said he wasn't all that nervous, other than concentrating on getting a good hurdle on one of his more difficult dives. He says, "I was just a little concerned with getting a good hurdle and jump. If you give it too much, they can become unstable."
Whatever he did, it worked. Coach Ference says, "David's performance was outstanding. As far as his voluntary dives, he hit the nail on the head with averages in the 7.5 to 9 point range. For his optionals, he had some big dives that we decided to put in his list, an inward two-and-a-half and a reverse two-and-a-half. These dives have a 3.0 degree of difficulty. I believe he has the chance to score much higher, and that's going to be the key for the PIAA championships."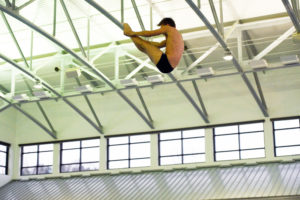 You would think that after winning such a prestigious award, David would be basking in the glory of his achievement and celebrating in grand style. That was nowhere near what actually happened.
"Afterward, we went to dinner, and I had wings and pizza. I was a little exhausted, but  I got up at 8 a.m. on Sunday because I had homework to do," says the WPIAL champ.
Now, also back to the grind with practices four to five times a week that last more than two hours a day.
He'll also continue to work on his takeoff and hurdle.
"We work on them every day to make sure he stays consistent with them," says his coach. "Overall, his progress is all uphill, and I'm proud of how much he dedicates his time to the sport of diving."
"I definitely feel like I can do better," David says. "I want to touch up a few things going into states, but, overall, I was very pleased with my performance at WPIALs."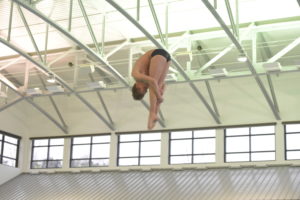 David's biggest obstacle standing in the way of a state gold medal is likely to come from last year's winner, Brendan McCourt, now a senior at Emmaus High School. In the 2019 championship, Brendan scored 542.75 on 11 dives as compared to David's mark of 487.45.
But that was when David was only a sophomore, and a lot of things have changed. He is more experienced, and, having qualified for states every year since he was a freshman, he is well familiar with what goes on at the state tournament. He does, however, acknowledge the tough test ahead of him.
"I have dived with Brendan and seen him at club meets," says David. "He is very good, very talented, and does some difficult dives."
The 2020 PIAA 3A diving championship will be held March 11 at Bucknell University's Kinney Natatorium.