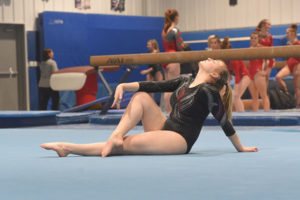 When junior Maggie Kelly gingerly does her approach on the diving board plank at a Foxes' swimming meet, she always feels a bit of trepidation. Originally a gymnast for nine years, Maggie discovered that being airborne when doing a dive is a lot different than when she's floating midair on the uneven parallel bars.
"I think it's scarier to dive because I get in my head and think too much about it," says Maggie, whose highest scores in diving typically have come from doing the front one-and-a-half somersault pike.
While both sports are similar – each has been referred to as "art in motion" – diving requires the athletes to be very cognizant of habits that belong in the gym.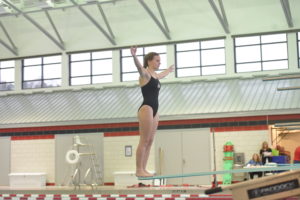 "In gymnastics, you do a lot of arching for many events but, if you arch in diving, it doesn't look as good and isn't done correctly," says sophomore Hanna Essey. A gymnast since she was 5 years old, Hanna competes on the vault, bars, and floor, and was a WPIAL qualifier last season. "I think the toughest thing about doing a new sport is probably getting over the fear of doing something I haven't tried before."
Maggie and Hanna are not the only gymnasts who have taken on both sports. Junior Zoe Boychuk, sophomore Claire Hamilton, and freshman Zoe Fitzsimmons all have joined the diving team and bolstered its numbers to be the largest in recent history.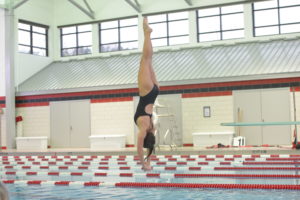 Zoe B., who has been a gymnast for eight years and also spent the past three diving, comments on her personal transition, saying, "I thought it was going to be tougher than it was, but all of my knowledge of flipping and twisting was easily applied to diving."
The common denominator among all of the girls seems to be striking a balance among two sports, academics, and social time.
"It can be difficult, especially when I have two diving meets and a gymnastics meet in the same week," Maggie says. "I just try my best to balance each sport and my schoolwork."
To their credit, both the gymnastics coach, Nadine Buchanan, and diving coach Joey Ference, are very supportive of their athletes doing two sports in one season.
"All of the girls are consistent contributors for us, and we rely upon them to add to our team score at meets," says Coach Buchanan. "They have managed very nicely to split their time evenly between both sports."