From the looks of their record this season, it would be easy to assume the boys basketball team has been rolling along with relative ease. But, with injuries to key players and illness striking others, it really has been a next man up mentality for almost the entire season. Helping make a difficult job look easy game after game, is a group of very talented sophomores whose contributions have been vital to the team's success.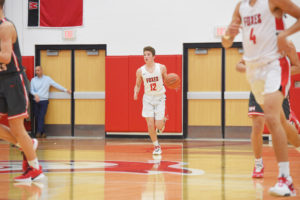 Those sophomore varsity players – Jake DeMotte, JP Dockey, Russell Fenton, Lorenzo Jenkins, and Eli Yofan – all are home-grown players who came up through the high school's Little Dribblers camps and played together on the area's youth basketball programs and travel teams. Over the years, they've developed strong ties off and on the court, know how to play to each other's strengths, and have easily meshed with the older varsity players to produce a winning combination. But the production and maturity of the sophomore class comes as no surprise to the coaching staff.
"This is probably the best sophomore core that I've coached so far, but we've known what these kids are capable of doing for a while," says 11-year Foxes coach Zach Skrinjar. "Some got varying degrees of varsity time as freshmen, and we knew then that they had a lot of ability. They knew they'd be getting bigger roles this year, and during that time, have gained a lot of confidence."
"We all know what we can do best and we play to each other's strengths," says Eli, who has been a varsity starter since he was a freshman. This season, he scored a career high of 26 points in the game against Penn-Trafford and has scored double digits in more than 13 games so far.
"Eli has a good pace and is a patient player, which is a sign of maturity," says Coach Skrinjar. "We have high hopes for him because of that."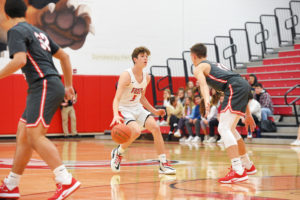 "It does put a little extra pressure on me because I know I have to perform," says Eli, "but I know I'm capable of doing what they [the coaches] want me to do."
He isn't the only sophomore scoring in double figures. In five games, multiple sophomores scored double figures, and three of them reached double digits together in one
game. JP is one of them. He grew up watching Pitt basketball games, which ignited a spark to play the game, beginning when he was in kindergarten.
Growing up with this group of guys has meant a lot to JP, both on and off the court. What he loves about his fellow sophomores is that, "as a group I think we add a lot of talent. We love to play and encourage each other. I love to see my teammates succeed."
Of JP, Coach Skrinjar says, "He's is a shifty player, and that's a good thing. He can shoot, pass, rebound very well, and he is a great defender. He does a lot of things very well. We know we can count on him."
Like a good puzzle, Lorenzo, Russell, and Jake have fit in perfectly and have add an extra dimension to the team.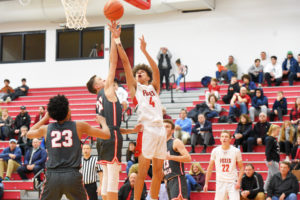 "Lorenzo is someone who just wants to do well," says the coach. "He feels like a different player to me this year. He's gained so much confidence and understands how valuable he is to us. Jake gives us a spark off the bench. He's also very valuable in practice because when we simulate games, we always have him take the part of the best player on the other team. He really challenges everyone to be better.
"And, Russell is really a student of the game. Of anyone on the team, he probably watches the most film and is always very valuable to us in pointing out other teams' strengths. On the court, he'sreally stepped up when some of our seniors have been out of action. He's right where we need him to be, both on the court and in practices."
Overall, the sophomores have contributed to the energy and passion of the team and have been very consistent in their efforts, even during times when the team has had to dig deeper.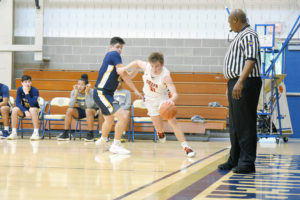 "They have a great confidence about themselves, are a very unselfish group, and have been a huge part of our overall success," says Coach Skrinjar. "They are good at getting the job done in different ways, and it's been really fun to watch them."
If the sophomores and the entire team continue to empower each other and remain on this trajectory, there's something ahead that would be even more fun – winning the WPIAL 6A section 3 title outright for the first time since 2007.