From the time senior point guard Gabby Guerrieri was a little girl, she dreamed of playing on the Foxes' high school basketball team. For years, she practiced every day, sometimes dragging her dad out with her, and eventually made one of Fox Chapel Area's youth travel teams. There, she met two other young ladies, Claire Fenton and Kyrie Nestel, also current seniors, and the three of them have stayed together up to now, their final season of high school basketball.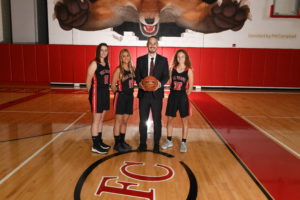 A determined hard worker since an early age, Gabby says basketball has always been a crucial part of her life. "It's made me more confident," she says. "I can be really hard on myself, and basketball has taught me how to be stronger and push myself. It's been so good to be part of this. The three of us just want to make the most of our senior year and play as hard as we can to get back to the state playoffs again."
Last season, the Lady Foxes advanced to the PIAA postseason for the first time since the 2003 season.
A Feisty, Determined Group
Claire's basketball career followed a similar path as Gabby's. Both players are small in stature and knew they had to put in a lot of hard work to outperform taller competitors. Claire took that challenge to heart and, year after year, no matter what the season, she could be seen practicing in the gym or outdoors with her father and brother Russell, who is a sophomore on the boys team.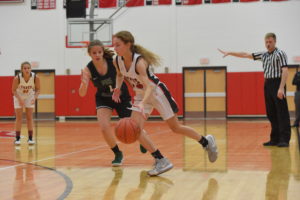 "Claire is really a great leader who holds us all together," Gabby says of her fellow senior, who also plays soccer. "She's very smart on the court and has good court vision. And, Kyrie always gives 100%, regardless of the situation. She is a selfless teammate, puts in the work daily, and always pushes us to be better."
Coach Marty Matvey says, "Gabby has taken great strides as a player and leader as the season has progressed. Her most complete game so far this year was against Seneca Valley on Jan. 10, when the Lady Foxes had a surprise upset over the Raiders, a team they failed to beat the past two years."
The coach says he knew about Claire even before he met her because she was always in the gym practicing.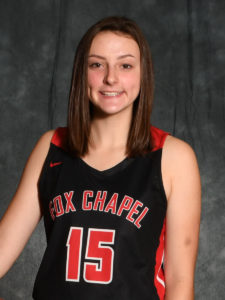 "As a senior leader Claire is always diligent in her scout preparation, practice time, and execution at games. Even though she's very focused and fierce on the court, she's also the first one to joke around with me. Claire has taken strides as a leader and has shown great confidence and care in upholding our program vision."
"I've been playing basketball with Gabby and Kyrie for a decade," says Claire, "and now that we're seniors it is bittersweet to think that this is our last season together. I think of them both as true friends. As a group, I'm most proud of the fact that we've stuck with it all these years and always been there to support one another through the ups and downs of our careers."
Kyrie echoes her teammates' sentiments about their special bond. "I've played with Claire and Gabby since I moved here in fourth grade, and I've enjoyed every minute of it."
Coach Matvey adds, "Kyrie is a selfless teammate who elevates those around her. She puts the work in every single day and definitely has helped to raise the standards of the program."