When you play for one of the most storied high school golf programs in the region, let alone the state, each year the bar gets raised a little higher to carry on the proud tradition. For Fox Chapel Area High School, it all started in 1961 when the boys golf program was inaugurated. Now, many generations over, Foxes' teams have earned a cumulative record of 622-143-2. Since current coach Bryan Deal took over the program 11 years ago, he and his players have put up 138 wins to just 15 losses. The team won one WPIAL championship, were the PIAA champions two years ago, and Coach Deal helped three of his players to become WPIAL individual champions. This year, he expects more of the same. 
With the season already off to an exciting start – the Foxes won both the Shady Side Academy Chapel Cup and the Gary Garrison Latrobe Invitational – Coach Deal says winning at the highest levels of the game is a process and one that will challenge the players to continue to improve. 
"We see this year as another opportunity to compete at the highest levels of the WPIAL and PIAA," says Coach Deal.  "We have 9 out of 10 players with experience returning, therefore, expectations are high, but that's what our culture and our standard are all about."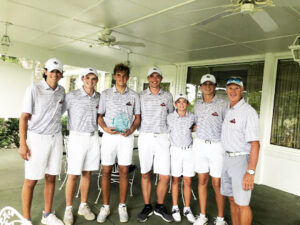 Among those returners are seniors Owen Delaney, Max Johnson, Zach Paper, and Eli Yofan, and sophomore Davey Fuhrer. Eli, Zach, and Owen all qualified individually for the WPIAL championship last year. 
Five other players are in the hunt for the open sixth position in the starting lineup – seniors Riley Johnson and John Walsh, and juniors Andrew Begg, Mike O'Day, and Jack Delaney
Eli, also an all-state basketball player for the Foxes, had a phenomenal breakout season in golf in 2020, his first with the team. He ended his maiden year by falling just one shot short of advancing to the PIAA individual finals. During the offseason, he stayed the course with his swing and not made any other significant changes or adjustments.  
"Obviously, I'd like to win those both this year," says Eli of his ambitions plans to win both the WPIAL and PIAA team and individual tournaments. 
"I just love Eli's spirit and fierce competitive drive," says Coach Deal. "He lights up the room, has great character, and leads by example. And he's a team player with nothing selfish about him."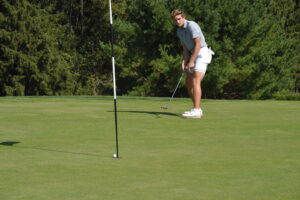 After injuring himself over the winter, Zach, one of the most consistent and conservative players on the team, had to adjust his golf game a bit, and it's turned out better than he expected. He explains, "I still don't feel 100%, which means I cannot swing my hardest. I have to swing softer and take more club, which ultimately has caused me to hit the ball more accurately."
Zach also has noticed other advances in his game. "My course management has improved since last year." Zach says. "Every time I play, I pick up little things that I can improve on. For example, (I'm better at judging) when to go for pins and when to not; when to lay up, and when to go for it. I am a conservative player, so if I am in trouble off the tee, I will sometimes play for bogeys. Coach Deal has always said, 'Bogeys are our friends. Double bogeys just ruin the round.' I also wait for opportunities to pin hunt and go for birdies. Most of the time, I just play for fairways and greens." 
Coach Deal is expecting Owen and Max to step up in their senior years, too. "Both were starters for us last year, and it's their time to meet expectations. Owen has played a lot of competitive golf and has been very consistent over the past few years. We'll be depending upon him as a senior player. Max has matured a lot as a senior, and his experience will help us in the WPIAL semis and finals."
Then there is Davey, who has been cast as the future of the team. Only a sophomore, Davey has played in a lot of competitive tournaments since he was 12 years old and has plenty of top-level finishes to his name. The Fuhrers have been a huge golfing family for years and Davey's uncle, Frank Fuhrer, is the only Foxes' golfer to ever earn an individual state championship. 
Davey says he doesn't feel pressured by having so many well-known relatives; he just drives himself with the knowledge that however much work he puts into his game will pay off on the course. 
"I just use it as motivation to work as hard and to be the best I can," says Davey, who missed almost his entire freshman year due to a non-golf-related activity. "It was difficult missing the last two-thirds of last season, but my leg is 100% now. Toward the start of the summer, I was a little bit rusty, but I got my game back together and won a couple of events. I probably played in about 25 to 30 tournaments over the summer and overall, I did well." 
Eli's summation of the year ahead is simple: "I think one of our biggest strengths is that we all know what we need to do to win. We all have been in this position before with big expectations, and now we just need to execute."