Senior running back Zidane Thomas' best memory of playing Fox Chapel Area football is actually one that started out not so good. When he was a sophomore and the team was playing Armstrong High School, he fumbled the ball at the end of the third quarter and was devastated.
"I came back in the second half and scored two touchdowns," he says of overcoming that mishap and then going on to become the team's leading rusher last season.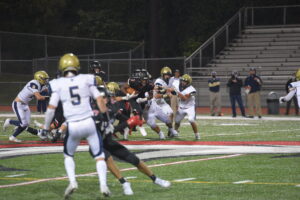 Ever since, Zidane (Ziggy) and fellow senior running back Maurice Sampson-Schulter (Mo), who was second in rushing after Zidane, have been looking for more opportunities to help the team, something they hope will occur more often this season.
"We didn't run the ball as much as we would have liked last year, and that's something we want to improve upon this season," says head coach Tom Loughran. "Ziggy and Mo have done a good job of preparing themselves. Both are powerful runners with the same physical, aggressive downfield running style."
John Alerich, their position coach who has primed them for four years, says of his players, "They showed a lot of promise and had success in the past, but the coaches are looking for more from them with the team's new variation on its offense that could provide more opportunities."
Both Zidane, who is more of a silent leader, and Maurice, an outgoing and gregarious person, have the speed and the grit to make an impact this year. As sprinters for the Foxes track team, they are two of the fastest runners in the school. Zidane qualified for WPIALs this past spring in the 100-yard dash, and Maurice just missed the mark in the same event to advance.
Zidane sees himself as a multifaceted runner. "I'm definitely a bull runner, but don't underestimate my speed," he says. "I believe I can run through and around defenders."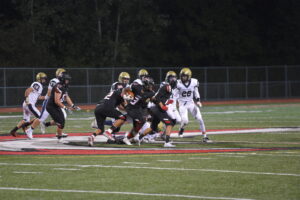 Maurice spent extra time in the offseason studying the playbook, trained hard to increase his speed and strength, and is working to improve his footwork.
"I would say I'm way faster than I was last year, and I got way heavier ­– it's all muscle," says Maurice, who believes his 5'8" frame can give him an advantage at times. "I think sometimes since I'm lower to the ground that they lose track of me, and that's one way I can get yardage."
Maurice credits coaches Alerich and Loughran for helping him to become a better player. Overall, he is optimistic about the season.
"We improved our offense and defense and we're starting to act more as a family," he says. "And we really want to win."