After ending last season with a 7-1 section record and going 12-4 overall, including getting to the second round of the postseason playoffs, girls tennis coach Alex Slezak looks forward to seeing what his experienced corps can accomplish this season.
Veteran seniors Carissa Shepard and Katie Voigt have been with the team for four years and will be counted on to lead the team of 10 returning players, some of whom are younger girls who will have an opportunity to prove themselves. Sienna Siegel, a freshman, is one of those new to the lineup.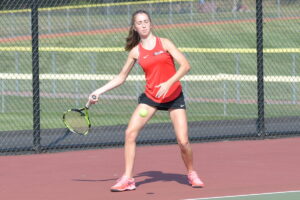 "We enter the season without expectations of anyone in the lineup," says Coach Slezak. "We train and prepare, and if we do that, then we can ensure we have done everything right. That's what sets up players for peak performances on the court.
"The doubles teams are a little more complicated and it takes some time throughout the season to establish the best pairings."
Right now, it looks as though the varsity singles lineup will include Carissa, last year's section champion; Katie; and Sienna. To begin the season, doubles players will be some combination of seniors Anna Ferris and Bridget Kilmer; junior Diya Reddy; and sophomore Sophie Carvelli. Seniors Hanna Essey and Grace Flanagan, and juniors Nicoletta Didomenico and Emilia Cody also are working hard to secure spots.
"What I see from the girls so far is they are willing to work," Coach Slezak says of his team. "The little time we have spent on the court so far has been focused and intense, and good things always come from that. But, again, I do not set expectations. We train and work, and prepare and give it our best because that is what sets up players for peak performances on the court."
But for longtime Coach Slezak, winning isn't the only thing for which he tries to prepare his players. He explains, "I am optimistic every season, not about winning, but about what the season can do for a player. I coach tennis because I believe I can have a positive impact on a kid's life through the sport of tennis, and if that happens for just one player on the team, it is a success. That is how I define winning, and that outlook gives me much to be optimistic about."