The Fox Chapel Area girls soccer team is entering the 2021 season after losing only one regular-season game last year. They had a lot of graduating seniors, but this is a resilient program with talented players who are spread across all grade levels. Coach Peter Torres talks here about what to expect this season.
QUESTION: It's still very early, but what talent are you coming into the season with, considering you lost a great group of seniors to graduation?
Coach Torres: "This year will be somewhat of a transition, but luckily we have the benefit of having players from all grades who have made their way into the starting rotation, or will come off the bench and add valuable minutes to the team. We will return senior starters Kaylee Uribe and Carlie Barnett; junior Makayla Mulholland; and sophomores Sydney Schutzman and Anna Troutman. We also have a number of players returning who received a lot of play time last year, including seniors Lauren Rabbitt, Anna Nury, and Addie Piper, junior Lilygrace Goodworth, and sophomore Kate Friday. We also expect some other players to get valuable time, including senior Hope Matthis, juniors Mia Nury, Lindsey Scheffler, and Mia Fortun. Seniors Brooke Bowman, Kara DiNatale, and Rory Sauereisen have been with the program for three years, and we are looking for leadership from them too."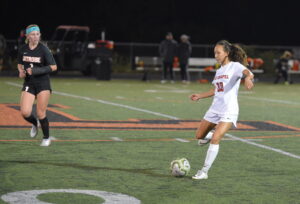 QUESTION: You lost your accomplished goalie, Sammi Dunlap, to graduation. What is your plan for keeper?
Coach Torres: "Molly McNaughton (junior) will be our starting goalie, and she has a lot of experience. She split time with Sammi last year and is a valuable piece to the whole puzzle. She is the kind of goalkeeper who can distribute a ball 40 yards away to a teammate's foot, while also being an outstanding shot stopper."
QUESTION: What about your rookie players? What have you seen among the ranks of the freshmen girls?
Coach Torres: "We expect a few ninth graders to push for playing time on varsity and several to continue to make our junior varsity team strong. As the season progresses, we may see a few of them starting or getting quality minutes. Also, we have plenty of players for both teams, so we look to get the JV some opponents that can make us better."
QUESTION: What are your expectations for the 2021 team?
Coach Torres: "The program has always set high expectations for each season, but this year, the players know it will not be easy. We know we have a huge target on our backs as we head into this season. Norwin, Penn-Trafford, Latrobe and will all be vying with us for the section title. We will have our work cut out for us. It is a quality section with a history of good, quality teams."