The Foxes' starting quarterback situation can go a few different ways this season, and for Coach Tom Loughran, that's a good thing. Vying for the top job are senior Collin Dietz, last year's starting quarterback (who also played on the defensive line) after former player Justin Rice was injured during the fourth game, and senior Khi'lee Patterson. At times, Khi'lee played in the wildcat formation last year, and when he wasn't in that position, he was a productive wide receiver. With each player having his own strengths and areas where improvement might be needed, time will tell if the coaches go with a dedicated quarterback, or play with two.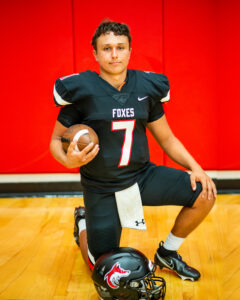 At the Foxes' scrimmage against Hempfield Area High School and first game against Peters Township, Collin got the start. He'll also be the Foxes' starter on September 3 against Hampton.
Overall, he has been pleased with the team's performance.
"I think the scrimmage on Saturday went well, especially for us having some guys out," says Collin, who threw for 649 yards and seven touchdowns last year.  "We had long drives, and we pushed the ball down the field using both our pass and run game. Having said that, we need to finish our drives with touchdowns, and we can't leave any opportunities on the field."
Collin acknowledges his own role in helping the team improve, which includes getting better at judging when to get rid of the ball and playing smarter.
"One of the things I learned from last year, and am still learning, is to put my mistakes behind me and not dwell on them," says Collin, a motivated and hardworking player. "Coach Loughran has emphasized that a lot to me, and he is right. I can't let one play affect me. I'm expecting a lot from myself. I want to be a guy who my team can count on when we need a big play."
Collin recites a cool story that Coach Loughran shared with him to help him to overcome adversity and move on from a bad play.
"I say to myself, 'Think about (Dan) Marino.' " Collin says. "Coach Loughran taught Dan Marino at Central Catholic and told me Dan's first pass as a junior varsity player was an interception. His first pass as a varsity player was an interception, and his first pass in college was an interception. Coach Loughran told me that Dan didn't let himself get stuck on those plays."
Working on his mental game also got a boost over the summer when he was able to occasionally work with former teammate and quarterback Shane Susnak. Shane broke the school's passing record in 2019 when he was a senior.
Collin talks about the experience of working with Shane, saying, "It was great working with Shane. He helped me a lot, and I have seen improvements in my reads. He talked to me a lot about how to become the leader that I want to be. It was great learning from a guy who's been in these shoes before."
A Multisport Athlete
Collin was always one of those kids who was happiest with a ball in his hands. When he was just 3 years old, he started playing T-ball, which led to many years as a baseball player, up until ninth grade. He still plays basketball on a winter recreational league, and last spring, he joined the high school's boys lacrosse team. But all along, football has been his passion.
"Since I was young, I've always wanted to play quarterback for the high school," Collin says. "The thing about football that I like the most is going out there with your teammates and going to war, knowing that they will have your back no matter what, and you have theirs, too. And I love how it's a way that you can represent your school, your family name, and your community."