Tim Lang has a lot of optimism about the 2021 girls golf season, and with good reason. The team has a lineup that includes four of last year's starters who helped the squad go 10-0 in WPIAL Class AAA Section 4, and 13-0 overall, before they entered the WPIAL team playoffs. The girls finished fourth at WPIALs and current seniors Nina Busch and Erin Drahnak qualified for the WPIAL individual championships. Nina won the bronze medal and advanced to the PIAA championships. Erin had the best regular-season average on the team but missed going to states by only one stroke and served as an alternate.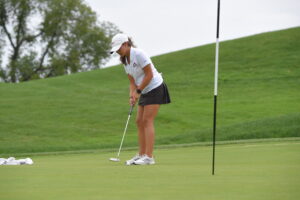 This year promises to be just as exciting – perhaps even more so. Nina and Erin have the maturity and experience to lead once again, and there are two other senior players who can become the low scorers at any given match, on any given day.
Of Erin and Nina, both four-year starters, head coach Tim Lang says, "There are players who can hit the ball well but don't have the knowledge to play courses in a certain fashion. But Erin and Nina definitely have proven that they have the patience, skills, and resilience to put a bad hole behind them and move on with success. They are very focused, and both have powerful swings."
Erin propped up her game over the summer by playing in 20 tournaments, 12 of them being two-day events. She competed in high-level competitions that included the Tri-State Junior PGA Championship.
"My finish qualified me for the girls' Junior PGA Championship, which was held at Valhalla Golf Club in Kentucky," Erin says. "Two other top-level tournaments I did were the PA Junior Girls Championship and the Buckeye Junior Golf Tour Championship. Playing in these events has really helped me learn better course management from different angles. I also worked on distance control for approach shots. I've just been training really hard and set new goals for myself to make even greater strides."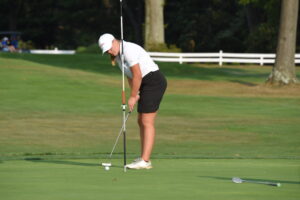 Nina, who says, "I have a second place and a third place at WPIALs; the only thing missing is a first place," also played in many events during the summer months to raise her game. Her highest finish was fourth at a Peggy Kirk Bell Girls Tour event in Maryland. She played in qualifiers for the US Girls Junior Amateur USGA tournament and narrowly missed the cut. Overall, she finished fifth out of23 of some of the best girls in the region.
Nina says her short game is probably her strong point right now, but she also has strengthened the mental part of her game through experience on the course and by reading some books written by Dr. Bob Rotella, who is known internationally for his work in applied sports psychology.
Grace Rygelski, a senior, is a golf fanatic who is devoted to the game and, according to her coach, "is really coming into her own" after playing a lot in the offseason.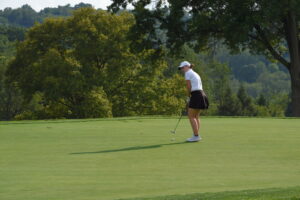 "Grace has worked tirelessly on her game and caddies to improve her understanding," says Coach Lang. "She has gained a lot of confidence in what she can do. Her scores last season as a junior put her in a solid fourth position, so she is right up there with Erin and Nina. Her scores last season as a junior were right up there close to Nina and Erin's."
Another returning starter is senior Baylin Bitar, whom Coach Lang calls, overall, the most athletic player on the team. "She could probably pick up any sport and be good at it," says the coach. "Baylin came on strong in her first year of playing competitive golf. Coming from a big golf family, she gets a lot of advice, especially from her youngest brother, Barron.
"Last season, her lack of experience resulted in some nerves, but now that she played in all of our matches last year, I'm hoping she has developed more self-confidence. To calm those nerves when her team is up against the best golfers, I like to tell them that they are not out there to play against any one person; they are playing against the course."
No one involved with the group is doubting the caliber of their 2021 team.
"The girls know they have a great team and that they can do some wonderful things this year," Coach Lang says. "While gold can be unpredictable at times, our starters have been pretty consistent. Erin, Nina, Grace, and Baylin are already playing some really good golf early in the season."
The squad also has two freshmen and a sophomore who are competing for the fifth position.
"Baustin Bitar, Gabby DeVita, and Lucy Rygelski are separated by an average of a little over one stroke," says Coach Lang. "That is nice to have!"