Senior Katie Heidenreich, a veteran setter on the Foxes' varsity volleyball team, has a strong knowledge of the game that helps her to anticipate opponents' strategies. She knows where she should set the ball to get the best chance of a kill and has been doing it for the Foxes for four seasons.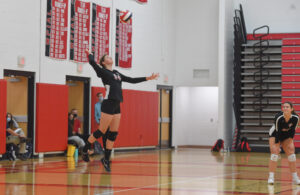 Fellow senior Lauren Himmel, who has played volleyball since seventh grade and hopes to continue on in college, also adds strength and experience to the squad. Her high volleyball IQ helps her to make informed decisions that aid the team through her blocking, hitting, serving, and passing on the court.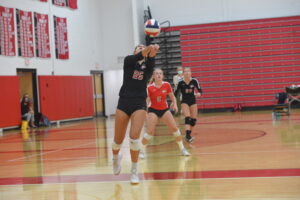 Together, the captains are leading their team, which Lauren says is doing well with the overall intent to get better every day they are in the gym.
"In order to meet our expectations, we need to put a lot of focus into each game," says Laruen, who also is a member of the Foxes track and field team and holds the indoor record in the 60-meter hurdles. "There is a lot of positive play on the court when we are able to play as a unit and not as individual islands."
The team's encouragement comes from many sources, including three additional senior starters, Eliza Auffenberg and Ally Hager; seniors Emma Begg, Athena Demetri, and Alwyn Williams; and juniors Ellen Gray, Annabel Siddons, and Beata Turnquist. Sophomore Peyton Shema and freshmen Scarlett Hancock and Kathryn Keskonis, all of whom Lauren describes as "hardworking and coachable," also offer a lot of upbeat vibes at matches.
Making the Best of Challenges
The ladies' gumption is critical as they fight their way through a very challenging section and try to overcome what can be a big disadvantage in volleyball – lack of height. But the team has shown they are compensating for that in other ways.
"I think we make up for it through strength, hustle, and unity," Katie explains. "We are enjoying every game and practice as if it were our last. Our coaches inspire us to play to the best of our ability, while teaching us how to overcome barriers and step up to the challenge. I also think our game day mentality is much stronger than it might have been in past years."
Of course, then there were the preseason challenges presented by COVID-19 – abbreviated practice time and, with the school's weight room closed, the inability to work out in the school's weight room to improve strength and conditioning. That's something all WPIAL teams have had to deal with, but volleyball has an additional and unique situation. State and county mandates and protocols have limited the number of spectators to 25, and that includes players, coaches, and officials, which pretty much eliminates vocal and physical support from parents and fans.
"I miss having the support and energy from fans in the gym," Katie, "but our coaches, parents, the athletic department, and players have all come together with creative ways to make the best of the season."
Right now, the group is working to get over a hump.
"Our record should be better than it is, but there have been a few setbacks with some injuries," says Coach Diana "Dee" Andreyko, who played as a pro in Europe.
Yet, she doesn't accept excuses and says, "Yes, we are in a tough section, but I expect the team to work as hard as they can to improve their own game and push themselves to do their personal and team best. We just have to get out there and compete to win. I believe that we can and certainly should win more matches because we are capable of doing it."
That is something about which the players and coaches agree.
"In general, I'm looking forward to seeing how the team gets through this tough moment and which direction they will take," says the head coach.