Hanna Essey and Bridget Kilmer first met years ago when they both were playing Fox Chapel Area travel soccer. Neither girl plays soccer anymore, but their friendship endured and was even strengthened after Bridget joined the tennis team this year. The duo really hit it off together on the court, and as of September 28, they are undefeated with a 7-0 record.
Hanna, a tri-sport athlete who also dives for the swimming team and has a long history as a gymnast, started taking tennis more seriously this summer, before she entered her junior year. It was Bridget who approached Hanna and asked her if she thought she should try out for the tennis team.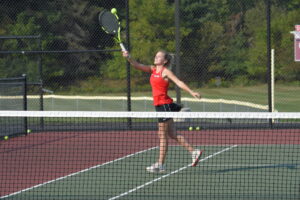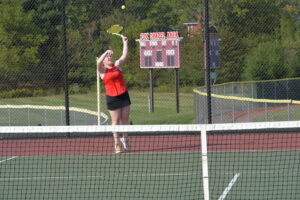 "I told her, 'Yes!' and encouraged her," says Hanna, who played singles last season. "I think they key to Bridget and my success is that we have good communication and know each other's strengths and weaknesses."
Bridget had played on the volleyball team the past two years but has always loved tennis and decided to try out for the high school team for her junior year. She says, "I have been playing tennis since first grade, but only during the summer months. I took a three-year break from playing it but started playing consistently again this summer."
Hanna and Bridget ended up taking lessons together all summer, so things worked out nicely when they became partners on the court.
"What mainly captured my interest in trying out for the team was just playing with some of the girls over the summer, and how I felt after playing," Bridget explains. "I have always enjoyed playing, but this year all I want to do is play and never stop. I look forward to going to my lessons and want to constantly improve."
"They are very fun to watch play," says Coach Laura Ward. "They always seem to have fun together and even in the toughest of matches are smiling. Bridget being a lefty helps with their strong groundstroke game. Her powerful first serve helps with Hanna's strong net game. They are able to set up and execute plays. The girls work so well together and are always open to learning how to become better players and a better team."
Dynamic Duo
Both players believe they play extremely well together and understand each other's playing abilities, which helps them to utilize their strengths on the court.
Bridget, who cites her first serve as one of her strengths, praises Hanna as being a great player. "She consistently has great groundstrokes and has great hands for quick pick-up shots. She also is great at setting up plays so I can finish the point up at the net. I am very lucky to have Hanna as my partner because she knows exactly how to calm me down when I get frustrated. I think, overall, the secret to our success is to have fun when we are playing so we don't put unneeded pressure on ourselves and stress out."
Hanna says many of the same things about her partner. "Bridget is very competitive," explains Hanna, "and it works in our favor. She has a great ground stroke, pickups, and consistency. She's very motivated to win, her reflexes are fantastic, and she is a very strong net player."
Both players agree on their proudest moment together so far this season – beating their opponents from Mt. Lebanon, who were very skilled players and had great shots.
"Through this match, Hanna and I truly learned more about how to play doubles together," says Bridget. "We had good rallies and very long games. In the first set, we were tied 6-6 in games and went to a tie-breaker. We were down 1-6, but came back to win 8-6. Hanna and I just relaxed and took the game one point at a time. We then won the second set 6-3. At the end of the match, I was extremely proud of both of us for beating a really good team."
"By playing doubles, I think I've learned how to become more cooperative in general," adds Hanna. "Doubles really requires that and a lot more communication than if you are playing singles, where you are only worrying about yourself."
Still left in the regular season are competitions versus Bethel Park, Shady Side Academy, and Taylor Allderdice. Section doubles were held September 30 and October 1. Afterward, the WPIAL Class 4A team championships will begin and the current state champions are hoping to have a long run in the playoffs again.
When that happens, you can be certain that Bridget and Hanna will be playing strategic roles in the team's success.