It's been a sweet year for the girls golf team in more than one way.
First, the team just captured the WPIAL Class 3A Section 4 title for the second consecutive year, something that hasn't happened since the 1976 and 1977 seasons. Now, they will move along to the WPIAL team championships on October 5.
Plus, four golfers – Baylin Bitar, Nina Busch, Erin Drahnak, and Grace Rygelski (who did not play due to an injury) ­– recently qualified for the WPIAL qualifying tournament, where Nina and Erin, with their respective scores of 82 and 84, made the grade to advance to the WPIAL Class 3A individual semifinals. They will be held October 8 at Oakmont Country Club. It will be the first time in WPIAL history that the area's girls' program will play on the storied greens.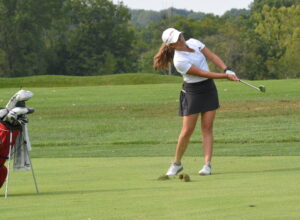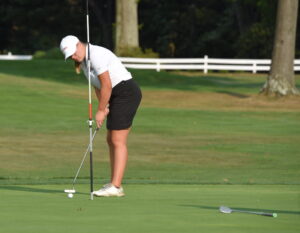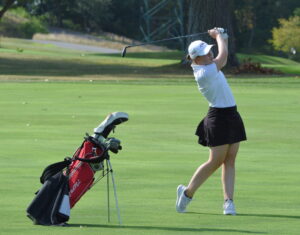 "I think it's fantastic to have four players who put themselves in a position to participate in the WPIAL individual qualifiers, and I'm very proud of them," says first-year coach Tim Lang. "For two of our players to finish in the top three speaks a lot about their aspirations."
While Coach Lang loves to see his players achieve personal success, he adds, "I really try to stress that high school golf is a team sport. This group has really bonded and are united in their goals. They love to play, like to see each other succeed, and are very supportive of each other."
Team Goals
Big on inspirational quotes, Coach Lang likes to use them to motivate his team and get them thinking. One of them is, "If you can believe it, the mind can achieve it."
"The girls all know what the goals are, and they all are driven to get there together," says Coach Lang. "They just achieved the first one by winning the team section title, and next we are shooting for the WPIAL title. This is a group that has bonded so well together and that has been a key in their progression. They have the drive, commitment, and passion to make this happen."
That determination doesn't end with practices or matches.
"These young ladies are constantly playing practice rounds; in fact, they just asked me if they could play today (Sunday)," Coach Lang says.
Good Options 
Having the luxury of an experienced, talented squad has allowed the Foxes to have a lot of flexibility in their lineup. Juniors Baylin, Nina, Erin, and Grace anchor the team, but fellow junior Lauren Childs also is playing well and has been pretty consistent in shooting in the 50s. Other golfers who are making notable contributions are senior Zoey Zoschg, sophomore Jordan Geidel, and freshman Lucy Rygelski.
"I know I can switch and mix up the lineup and give opportunities for different players to obtain substantial playing time," says Coach Lang. "Everyone on the team is contributing to our success in one way or another, including seniors Elizabeth Conroy, who is recovering from shoulder surgery, and Erika Litwin."
Journey Made Better Through Hard Work
Another of Coach Lang's favorite sayings is one he shared with his team the first week of practice. He told them, "Next week we are about to start a journey together and we will see where it takes us. Winning is about the journey, not the outcome. So, focus on each day, each match, and enjoy the journey."
The players have taken their coach's words to heart by following up each match with an enjoyable team activity – an ice cream run! They love ice cream and take it upon themselves to research the best places close to the courses they just played. They favor local businesses to support the community. After all, who wouldn't want to make the journey a bit more enjoyable by celebrating with a sweet ending?