Giving and getting respect means a lot to Dorian Gomez. And, after being elected a captain of the 2020 football squad, there is no doubt that his teammates have a high opinion of him, his athletic abilities, and the way he serves as a role model, both on and off the field.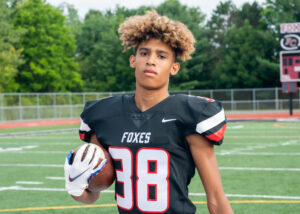 "Dorian was a good choice for a captain because he provides good leadership through his words and on the field," says head coach Tom Loughran. "The guys respect him because he is very tenacious and has a lot of grit."
"When I was voted a captain, I wasn't expecting it at all," says the senior. "I've just always tried to use my voice to get them pumped up and lead by example."
Just one way that Dorian demonstrates leadership and respect for others when on the field is by stressing the importance of accountability.
"I think people respect you more if you admit you made a mistake and don't blame it on someone else," he says of the actions that are not limited to sports. "I try to tell my teammates that they will grow from their mistakes. I know when I make a bad play or a mistake, I take responsibility for it instead of blaming it on someone else."
Dorian is also big on showing good sportsmanship and tries to impress upon the guys, especially the younger ones, how important it is.
"If I hit someone hard and they are on the ground, I always extend my hand to help them back up," Dorian says. "It shows respect."
That is some great advice coming from someone whose wisdom belies his age.
Dorian has always been a sports enthusiast, and says, "I grew up playing any sports I could. I started playing football when I was six-years-old on a team on the South Side and went straight to contact football (which is not permitted today). I think I developed a mental toughness at an early age because I hung out with older kids who were good role models. But I had to earn their respect first."
It's something that Dorian didn't shy away from then, and certainly doesn't now. Although he is one of the smaller defenders on the team, opponents should never underestimate him. Pound-for-pound, there probably isn't a hard-hitting, more tenacious player on the field.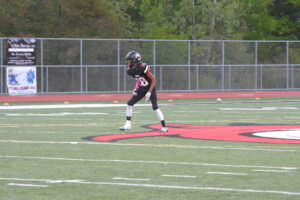 "I didn't realize being smaller was a challenge until I got older and in high school," says Dorian, who is now the starting cornerback for the team and also plays safety and nickelback, as necessary. "I was only 4'11" and 80 pounds as a freshman. It definitely was a struggle for me because I started to feel as if I wouldn't be big enough to play sports. But, when I started to just be 'me' and not focus on my height, I realized that it wasn't about size, but more about the amount of fight and confidence you have in you."
While many people might not know it, Dorian also is a jumper and a sprinter in the 200-meter dash for the Foxes track and field team.
"I like football best, but I know I'm better at track and field," says Dorian, who specializes in the triple and long jumps and in the 200-meter dash.
Dorian's jumping coach Tim McLister praises his multitalented student-athlete, and says, "I'm not surprised to hear that Dorian was named as a captain for football. He definitely leads by example and through hard work. We only had a few weeks of practice last season (due to the spring sports season cancellation), but his long jump had increased by 1.5 feet since he was a freshman and his triple jump improved an astounding 6 feet. I'm looking forward to seeing what he can do this year on the varsity track team. I have very high expectations for him. He is definitely someone I will look at to score points in the jumps and help us win meets."
However, Dorian has a lot more dimension to him than being an athlete. He places priority on academics and would like to combine his love of science, animals, and the water to become a marine biologist. He attends meetings held by the Fox Chapel Area High School Black Student Union and supports their efforts. He also helps to advance understanding and community unity by volunteering with his church. He finds that working with youth is very rewarding.
"We start with the younger ones, rather than the older, because if we can get the kids to like each other at a young age, it may help them in the community later on in life," says Dorian. "We set up games and activities for the kids, hang out with them, and just get to know each other."
So much of it just comes back to the significance of respect – for yourself and others.  Give and get it, learn and live it. That, and his other positive qualities of being non-judgmental , committed, and dedicated, all have helped to shape him into the young man he is today and are what he hopes to pass on to others.