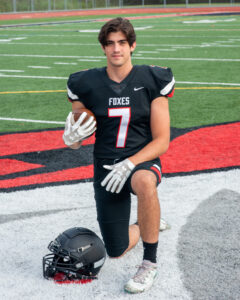 Senior football captain Chris Rogalski is picking up right where he left off last year as one of the Foxes' impact players. As a defensive back last year, he made 28 tackles, 16 of them solos. This season, the coaching staff switched him to outside linebacker on defense, and as a tight end as needed, and already he has become one of the team leaders in defensive stats. In the first two games of the season, Chris exclusively played at his new defensive assignment, and has accumulated seven unassisted tackles, two assisted tackles, and 1.5 sacks.
"Many people don't realize how tough it is to move positions," says Coach Tom Loughran. "We're very pleased with Chris' effort, work, and the progress he's made. He's a pretty quiet guy, but he leads by example."
"I knew last year that they wanted to move me because it fit me more," says 6-foot, 180-pound Chris, who worked every day in the offseason to put on 25 pounds of muscle. "In this position, you have to be very versatile and fast. Tight end also is a very versatile post where you play many roles. You have to be able to catch the ball, block, know the playbook very well, and be very physical. It's a unique position."
Senior teammate Dorian Gomez, also a team captain, says this about Chris: "He's a great guy who is always improving, and his physicality is crazy. He's not afraid to make hits, and he always puts the team first."
Learning from the Past
Chris started to play organized football in seventh grade. It was a rather inevitable choice.
"I'm big on all sports and my family loves football, so I was drawn to it from an early age, and it was my dream to play," says Chris, who also plays volleyball for the Foxes. "I definitely like the team bonding part of football because I've made some really good friends, and it teaches you good lessons."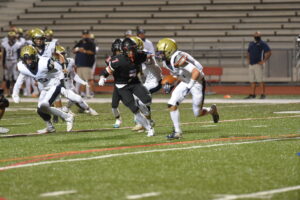 Some of those teachings came last year when players, such as 2020 graduates and captains Sam Brown, Shane Susnak, and Alex Wecht, were great role models. They left a lasting impression on Chris, who says, "Every day those guys came to get better and they were some of our toughest players."
Their work ethic and leadership gave Chris something to aspire to, so when he was elected a captain this season by his peers, he had some definite ideas about what he hoped to achieve.
"I think I understand our players and want to be someone who helps out my teammates, especially when it comes to the younger players," says Chris, a two-year varsity starter who is known for playing with intensity. "I've tried to talk with them and build bonds, like others did for me. Mostly, I want everyone to realize that if we want to be good, that means making personal sacrifices, putting the team first, and going into games with a good mindset."
While the shortened season hasn't exactly gotten off to the start the team would like, Chris says, "We are still one heck of a team. We just have to come ready to play every game."