Senior pitcher and outfielder Dante DiMatteo is having quite a year. His natural ability, combined with his advanced arm strength and accuracy, have been key to the team's accomplishments and helped to put them in contention for a playoff bid. Most recently, Dante threw two no-hitters in three games – one against Woodland Hills that they won 12-0, and the other was an 8-1 victory over Shady Side Academy. Dante has been a leader and role model for the younger players, who make up the majority of the team's roster.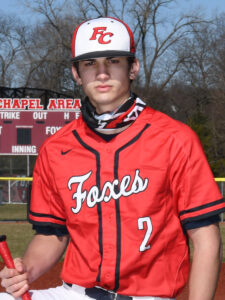 Following is an interview with Dante in which he talks about his abilities, role on the team, and future plans in the sport.
Q: Where do you think you've improved the most since your sophomore year? (The last time the team played together until this season)
A: The skill that I have improved the most has to be my pitching. I used to have bad pitching mechanics and anything I threw at the batter was getting hit. In the offseason, we spent a lot of time using pitching tools and experimenting with new technology. This helped me a lot with developing better mechanics and even increasing my pitching velocity.
Q: Every athlete brings something special to his or her team. What do you think are your unique traits and abilities?
A: I think one thing that I bring to the team is leadership. Our team is mostly made up of juniors who, before this season, didn't have any varsity experience. The other three seniors and I have made it a priority to take charge and be leaders. Another thing I bring to the team is confidence. No matter if the bases are loaded, it's the bottom of the seventh inning, we are down by one or two outs, my mentality always stays the same. I don't let the pressure get into my head.
Q: What are your stats right now?
A: I have a .400 batting average with a .585 on-base percentage. For pitching, I have a 1.432 ERA with 59 strikeouts in 29 innings.
Q: Your speed has been described as being faster than your clocked 60-yard dash would indicate. True?
A: Yes, my game speed is very fast. The 60-yard dash only tracks you running in a straight line for 60 yards which is the distance from home to second and doesn't accurately measure how fast you are. I don't personally have the best 60-yard dash time, but my speed when it comes to getting to balls in the outfield or stealing bases is very fast.
Q: Do you know how fast you're pitching? What is your favorite pitch, and why?
A: The last time I got my pitching velocity tracked, I was throwing in the mid- to upper-80s. My favorite pitch has to be a high fastball because it is a pitch that looks very appealing to a batter but causes a lot of swings and misses.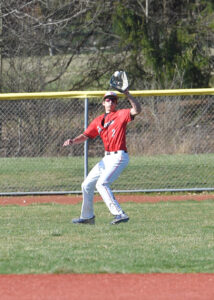 Q: What is your mentality on the mound, at bat, or when you are playing in the outfield?
A: My mentality stays the same no matter what position I play. I try and do everything in my power to put my team in the best position to succeed. I also try not to let things get to me, for example, if I strike out to end the inning with runners in scoring position, I can't let that translate to my fielding/pitching when I am out in the field.
Q: What are your future plans for playing baseball?
A: I committed to Washington and Jefferson College in November. They have a top-tier Division III baseball program that I fell in love with the first time I visited the campus.
Q: Did the college coaches mention what impressed them most about you and your game?
A: Before I committed to W & J, most college coaches that I talked to were very impressed with my game knowledge. During every play, I know the signs, the outs, and the situation, so when the ball comes to me, I know immediately what I'm doing with it.