Other than the WPIAL championships, there are a few track and field meets scattered throughout the spring that are good indicators of how the Foxes might fare in the postseason. One of them is the upcoming Butler Invitational on April 21, during which athletes from about 60 schools will compete.
"This is a good first test for our varsity kids," says coach Tom Moul. "Many of the WPIAL schools will be there, but not all of them. This and the Pine-Richland Invitational at the beginning of May are good tests for us."
Coach Moul is optimistic about what his athletes can achieve as they enter the part of the season when they are competing against the best of the best.
"This year, we continue to be very excited about the girls sprinters, jumpers, and hurdlers," he says. "There is a lot of potential there, and Anna Troutman already has set new indoor and outdoor high jump and hurdle records. She also provides points for us in the triple jump, hurdles, and relays."
In addition to Anna, there are a number of girls in the mix for medaling and setting personal bests. Anna Kintner has been performing nicely and draws points for the team as a jumper and sprinter. Sprinters and hurdlers Isabella Barbour, Claire Feczko, Eileen Healy, Alyssa Quackenbush, and Elsie Smith are all on track to have some of their best performances of the year. Maya DiPasquale has established herself as a steady middle-distance racer in the 400- and 800-meter events, and Gianna Tavolario is doing well in the 100 and 300 hurdles. Sarah Michalak is adding team points as a distance runner. Claire Conti, a freshman thrower, has already broken the freshman/sophomore indoor school record.
"Claire has been a huge addition for us," says coach Moul. "She's gotten big points in every meet and for a freshman thrower, this is quite unusual."
Elsie, a multisport athlete who led the girls basketball team in scoring for the past few years, was voted a captain this year, only her second with the team. She considers the 300 hurdles her best event, but adds, "I think a lot of the girl sprinters, hurdlers, jumpers, and throwers are beginning to make a bigger impact on the team because of the strong underclassmen. There are many talented freshmen and sophomores that compete in these events."
Eileen, a junior, runs the 100-meter dash, the 200-meter dash, and the 4 x 100 relay, and just picked up the long jump this season. She shares Elsie's positivity about the future of the girls program.
"I think the girls team is very talented," Eileen says. "We all put in a lot of effort. Our underclassmen are especially good, which is exciting because they still have the rest of their high school careers to become even better. They all work hard, support each other, and make track a lot more fun. I am proud of all of them."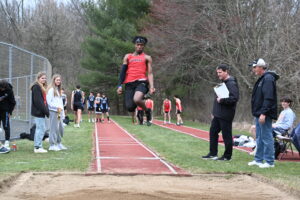 For the boys, Rowan Gwin continues to be in the top echelon of distance racers. He medaled last year at WPIALs in the 1,600 and as a member of the 4 x 800 relay team, and is seeking to do even better this season. He also sets a great example as a very hard worker and is bringing along some of the younger promising athletes, including fellow distance racer Nicky Clump. Others who are contributing dependable points to the team are sprinters Elliot McCann and Aidan Ortz, and jumpers Andrew Olando and George Tabor.
Damian Blum is contributing a lot of points as a middle-distance runner. His times have improved since last season, and he attributes that, in part, to the natural process of maturation, as well as his increased focus during practices and meets.
"I think the biggest difference this year is that I've improved my overall stamina and my kick at the finish line," Damian says. "I'm just more experienced now, and I'm running smarter than last season. It's very satisfying to see how far I've come and to know that I can still do more."
Finally, Sean Feczko and Alaric Waters are the boys' main throwers this season. Sean's background as a football player benefits him in this sport, too.
"I believe my strengths are in my ability to apply what my coaches tell me, and the physical strength I built from lifting," says Sean, who uses that power for the shot put, discus, and javelin. "I also recently started to learn how to put spin on the discus, and it improved my throw a good amount. I have also learned how to glide for the shot put, which has helped me a lot."
Mason Miles, also a thrower, was the Foxes only athlete to advance to states last season. He has been out for an extended period of time with an injury but has indicated he thinks he can come back before the end of the season.
Overall, Coach Moul is pleased with his athletes and where they stand at this point in the season, as compared to last year.
"Our goal as a program is to always be competitive in our section and maximize our WPIAL and state medals when we get to the end of the season," says the coach. "I'm proud that everyone is working hard toward those goals, including some of the younger kids who show good promise for the future."