When students were learning virtually during the COVID-19 pandemic, Zach Johnston took advantage of the situation and created his own podcast. He says, "I talked about everything but the virus because that's all we were hearing about." Since then, the senior has abandoned his time on the air, but he is still talking a lot – only now it's as a vocal leader, power hitter, and shortstop on the Foxes baseball team.
The Juniata College recruit says, "I believe I can bring encouragement to our younger players, as we are a very young team. I try to show the younger guys how energized we need to be, especially in section play. Loud in the dugout, hustling every play, things of that nature."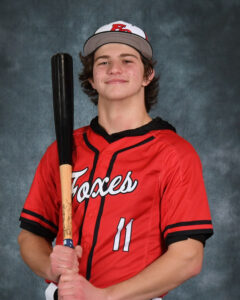 While Zach may be a chatty guy (in the most positive sense), his talents on the diamond speak for themselves and are a reason why the team is 5-1 in section play (as of April 17). His range and power are perfect for the shortstop position, where he played last year, and now this season, but his talent has earned him positions all over the field.
Foxes coach Jim Hastings says, "Zach is extremely hardworking, a good leader, and he's very versatile. Although he is our shortstop now, when he was younger, we'd play him in the outfield and at second and third bases. We basically put him anywhere, not just because he could do it, but also because we wanted to have his bat in the lineup."
Zach was the team's second-leading scorer last season with a .375 average to complement a fielding percentage of .917. This season, he's driven in 10 runs and scored 10, both of which lead the team.
As shortstop, a pressure position, Zach views those challenges as a good thing. It also presents situations where he can put into play the lessons his older brother TJ taught him about the mental part of the sport. (TJ played for the Foxes and now is on the baseball team at Penn State Behrend.)
"I wanted to follow in his footsteps," says Zach of his other. "When I was younger, he used to help me with my fielding. But as I got older, he started to advise me more on the mental part of the game. He would tell me, 'Sometimes you just don't play well, and you just have to work through it. You have to win the mind game before you can win the physical game.' "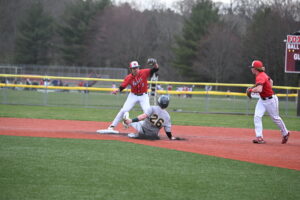 Zach's best performances have come in crucial section games.
"I felt my best overall game, and definitely my best fielding game, was against Penn-Trafford," Zach says. "In terms of offense, my swing felt its best in the Penn-Trafford game, but I had my best results this past Monday in our win over Franklin Regional, and before that, in our win over Penn Hills a couple of weeks ago."
Zach's success at the plate is the result of a lot of hard work in the offseason.
"I have focused on keeping my hands back longer and keeping them in sync with my hips," says Zach. "This allows for maximum power to drive the baseball. It's all in the details."
It's not only his individual efforts that are powering the Foxes as they compete for another consecutive trip to the WPIAL Class 5A playoffs. The entire team is fired up.
"Our team's strength lies in our ability to make plays when they are needed," Zach says. "We already have been put in many stressful situations and have made the plays we needed to. What we need to do to continue to improve is string together hits, which we have done a much better job of the last couple games."
"It has been fun watching Zach mature and grow over the years," says coach Hastings. "He has meant a lot to our program and is a great example of when you put in the time and have talent, it really pays off."