The Friday brothers, Cooper and Mason, don't often team up on the tennis court, but going into the section and WPIAL tournaments, they, along with coach Alex Slezak, decided to do just that. It was not only a personal decision so the two could play together as Cooper's high school season winds down, but also a strategic one to aid in the team's overall success. Now, the doubles duo is singularly focused on winning medals – a lot of them.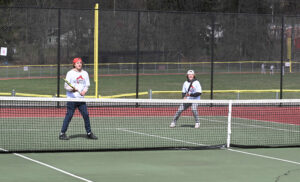 Cooper has been the team's No. 2 singles player all season and has only lost two matches, both of which were non-section. Mason plays doubles with Travis Malone during the regular season, and they are undefeated. All of the players' contributions helped last year's team bring home the WPIAL Class 3A trophy.
Coach Slezak is excited about the possibilities of the Fridays teaming up in the postseason. He says, "They both have tennis games that lend themselves to being solid doubles players. They have the skill set to control the net and have opponents reacting to them. And, although they have not played doubles together on the team, their brotherly bond is strong and a supportive one."
Cooper and Mason do, however, have abundant experience sharing the court in paddleball, a sport in which they have been hugely successful. The Fridays are four-time national champions and will try for their fifth title this summer before Cooper ages out of the U18 division.
"Hopefully, the chemistry from paddleball will translate into tennis at the WPIAL doubles," says Cooper.  "I've always had a strong backhand from paddleball, but now in tennis, I feel a lot stronger and more confident in my forehand. I've been happy to see how much I've progressed since last year."
He believes the improvement in his forehand has been key to his success in tennis this year.
"I started off a little rough, and not playing as strong as I would have liked, but I've changed since then," Cooper explains. "Just recently, I won my match against Shady Side (Academy), and then I beat a player from Sewickley (Academy) who I've never beaten in the past."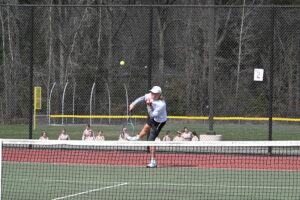 Mason, a sophomore, has more experience sharing the court and is dominant at the net, while Cooper says he's better at volleys. The chemistry they share has given them the benefit of being able to anticipate how each of them will react, and they have developed a set of hand signals to communicate while playing.
"We both know what each other's strengths are. He knows what I like, and we know how to set each other up," Cooper says.
Yet, the brothers and good friends have no illusions that just because they are paddleball national champs, they will be equally as successful in winning gold medals in tennis.
"In WPIAL doubles, most teams are teaming up their No. 1 and No. 2 singles players. We will be playing a lot of NCAA Division 1 players," says Cooper.
Mason says, regardless, he sees no changes in their game strategy.
"We work well together and always have," Mason says. "We will play as we always do. It's very helpful that we have great chemistry from paddleball, which we hope will just carry into the tennis court."
The WPIAL Class 3A Section 3 doubles tournament will be held April 18 and 19 at Fox Chapel Area High School, followed by the WPIAL playoffs on April 25 and 26 at North Allegheny High School.